Meymey Seng
Staff Writer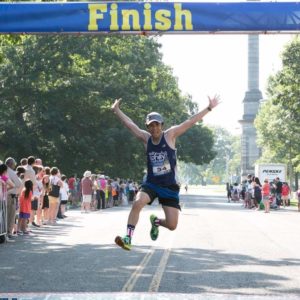 Covering 13.1 miles in the incredible time of 1:21:22 was done by Jeremy Spry! Every year he runs the Disney Half Marathon in California. He has the determination of trying his best before going each time. With all his hard work, he managed to earn the place of being the third male in his age group to finish!
"I was excited. I was really happy. It was an unexpected thing," said Excellence Coordinator Jeremy Spry. "The race went off and I was running my hardest. I thought I had a good chance of winning my age group and then between hard work and luck, it kind of worked out. It was really cool." One of the most thrilling things was that he was running alongside Jenny Simpson, an Olympic medalist who got bronze in the 1,500 meter RIO, representing the U.S. "I got to talk to her and I talked to her about SLA and about Students Run Philly Style."
The Very Beginning
As a big fan of sports, he played ultimate frisbee during high school and college. After he graduated from college, he decided he no longer wanted to play ultimate frisbee, but he still wanted to be apart of a team. Eight years ago, when he first started working at SLA, he noticed Students Run Philly Style posters hung around the school by former Physics Teacher Rosalind Echols. Seeing those posters, he automatically wanted to be a part of it.
Jeremy remembered sitting in his house, before coming to Philadelphia, and seeing the New York City marathon pass by every year. From then on, he always wanted to run a marathon. "The furthest I've ever traveled to run was Washington State as a part of a relay race," Jeremy said.
The Transformation
When Jeremy first started training with Students Run, it was very difficult. After he ran his first marathon, he admitted that he would've never wanted to run again. Although, he had already signed up for the Walt Disney World marathon and realized that it was a lot easier to stay in shape than to get back into shape. Now, he has run about twenty-seven half marathons and twenty-two full marathons, all in the span of eight years! After more years of being with Students Run, which starts back up in March, he noticed how running was able to transform students. The students were able to gain the confidence to run marathons at the ages of 15, 16, and 17. They could later use that confidence to succeed in life.
Running became his favorite. He loves running, loves making kids run, and generally loves everything about running; it's a part of his identity. He has ran many races and the furthest he's ever traveled to run was for a race called the Ragnar Relay. "We ran from near Canada all the way down to Washington State. We were a relay team that covered about 200 miles in twenty-seven hours."
Favorite Thing About Running
"My favorite thing is watching people become more healthy, both mentally and physically. Running is not something that could be faked, it's clear that you get what you put into it," said Jeremy Spry. "I believe that everyone can run because most of the time, if someone has the ability to walk, there is a ninety-nine percent chance that they would be able to run."
One of the biggest transformations that he loves to see is when people say that they're not able to run a mile to being able to run Broad Street Run, half marathon, or full marathon.
"I love what the Philadelphia marathon represents. I love Students Run Philly Style and I love the next day after the marathon weekend when everyone comes in with their medals and their shirts. It's like finally over and everyone's happy."
Making Everyone Proud
Many different members of the SLA community are impressed with Spry and everything he has accomplished.
"The one thing you will always hear Jeremy say is, 'I love running!' And he really does. Nothing makes him happier," said English teacher Amal Giknis. "He's super fast, too, so his photos are always awesome and show him all alone on a really cool course."
Science Teacher and fellow Students Run Philly Style Coach Shannon McCullough agrees. "He is a very committed athlete who demonstrates both persistence and endurance. These are two key ingredients for any long distance runner. As for his performance in the Disney marathon, I'm not surprised at all."
"I think it's amazing that he was able to place third in the race, especially since it was a half-marathon. I know he's run so many full and half marathons, and that makes me feel inspired and motivated to have someone like him as a coach," said sophomore and participant in Students Run Lauren Nicolella. "It's also cool to see that Jeremy is spreading his knowledge and skills to kids on the running team, helping them to improve with not only their running, but with their attitude and mentality towards running in general."
"I am incredibly proud of him. It makes me so happy to call him my running coach. He's so hardworking and deserves the recognition," said junior and participant in Students Run Kaamil Jones.  
"I was thankful for him before, but this is like icing on the cake."