By Annisa Ahmed
Staff Writer
As of this year, the independent reading unit at Science Leadership Academy is stretching across grades.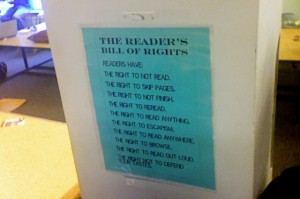 SLA is a school built upon independence and after laying down some guidelines, students are normally allowed to explore a topic in their own fashion and the same holds true with literature. Students are initially introduced to it at the beginning of their third year.
English Teacher Larissa Pahomov finds comfort this type of teaching because it allows for more wiggle room. "It's a challenge in English because everyone reading one book gives you unity and some common thread for discussion," explains Ms. Pahomov. But, I remember it gets boring when you are always being told what to read, so you also have to give them freedom at some point."
"The big thing," Ms. Pahomov said, "is figuring a way to give people without it being totally unstructured so, finding ways to encourage students to read and enjoy themselves without making it feeling restricted."
The brilliant mastermind behind it was former English Teacher Zac Chase, but the concept is always being fine tuned. As for instance, independent reading or rather, free reading as English Teacher Matt Kay calls it, is being brought into the curriculum as early as freshman year.
He explains as it as an approach to target kids who do not always read class texts with a passion. "I thought I would grab more of their attentions if I gave them more options," stated Mr. Kay.
The students that he teaches are divided into small reading groups and given a book each. There are small quizzes every Friday and it is their job to manage their reading time wisely. Novels to be studied this year include Girl, Interrupted, Monster and Me Talk Pretty and so far, it has been running rather smoothly.
Mr. Kay acknowledges that there are better ways to teach about culture. "And all of these books [offered], he noted, "are tied together by a culture unit so, I figured there is no reason not to taste some free reading."
Freshman Hikma Salhe of Blue Stream has been rather pleased with the turn of events. "It's pretty inspiring and fun. When I talk with other kids in the class, there is more to talk about because of the options Mr. Kay has given us."
She hopes that she will able to read more like this during her later in SLA.
Contact: aahmed2@scienceleadership.org.