Lauren Nicolella
Staff Writer
Transitioning into high school is a big step for anyone. Leaving your friends, meeting new teachers, and going to a different building for the next four years of your life can really take a toll on someone. Adjusting to the new amount of school work is different, especially with being at a project-based school with a different setup than other public schools in Philadelphia.
A survey was sent out to the freshmen students containing seven questions about their first benchmark season and difficulty of their classes. The results show how freshmen are feeling about their first year of high school so far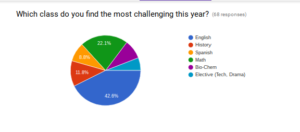 In one of the questions, it was settled that English was the challenging class for a large portion of the surveyed freshman students. Out of every single class, Mr. Kay and Ms. Giknis seemed to be the most difficult for many freshmen.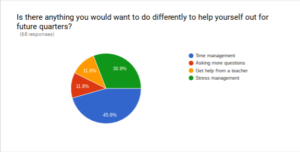 When asked what would you do for yourself in the future, a majority of freshmen answered time and stress management. These two stressors play into each other, especially during benchmark season. It's interesting that early on, freshmen are able to recognize what habits they should probably change as they go through high school.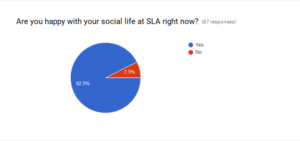 Another question, asking about being satisfied with their social life at SLA at the moment, had pleasing results showing that more than 80% of freshmen admitted that they were happy. If you have a solid group of people around you who are willing to help and support you, there is nothing more you could ask for.
Especially since we are project-based, it is good to talk to everyone. You could potentially be paired with someone you've never talked to before. Everyone is most-likely going to be added into a group with a different person at least once, so it wouldn't hurt to be friendly.
The below pie charts show the rest of the questions as well as the percentages of what was said by the 65+ freshmen who answered.