Aidan Williams
Staff Writer
"We started in like seventh grade, when this guy Jonathan Block wanted us to play in his christmas band. We played with him and it sucked, so we made our own band."
This is the origin story of the band Grey Palmer, according to Sophomore Sofian Zapf, who is also Grey Palmer's lead guitarist.
Composed mostly of students at Germantown Friends School, Grey Palmer's music is reminiscent of the Red Hot Chili Peppers: Levi Andrews-Hoke, the primary lyricist and singer, as well as the rhythm guitarist, writes lines packed with words over punchy, upbeat ska-inspired riffs. The band is rounded out by Claudia Grossi on bass and Caleb Rudick on drums.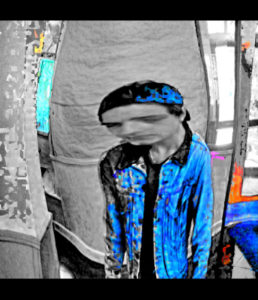 Formerly known as Fleimingo –"We hated the name because no one knew how to spell it," explained Zapf–  Grey Palmer has been described by Nat Hilton, a Junior and fellow musician, as "white kid reggae. A tween The Police."
Having been together for about a year and a half, they have recorded three demos that have been released, all of which are on their bandcamp, www.greypalmer.bandcamp.com.
They've spent much of the past few months playing shows mostly in basements and small local venues all over Philadelphia, and putting themselves on the map. Sofian has gotten fairly good at booking shows, and it seems as if they've been playing non-stop, always bringing a crowd to each gig. However, they are currently in the process of writing and recording new music, and have taken a break from performing.
Most of their demos have a Spanish inspiration. Songs they have already recorded include "Conquistador," which is full of references to conquests as well as religion, to "Descansada," a song dedicated to rest. The songs are dense, packed with lyrics full of references to anything from religion — "Then again I'm a mennonite man on a family tree."–  to Casper the Friendly Ghost — "…And my best friend Casper, all friendly when he's dead."(Descansada), and everything in between.
"We've been trying to get ourselves together and record, but we lack motivation and time. Some day." Sofian answered when I asked about the band's goals. They've taken a bit of a hiatus in order to motivate themselves, but someday, maybe, they'll decide it is time to do something. Or maybe they will continue to release demos until the end of time. We'll all have to wait and see.