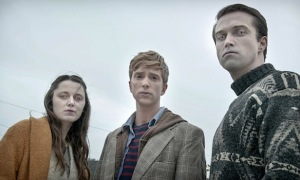 Sean Morris
Staff Writer
Imagine if someone you lost came back to life, thinking functioning and still essentially them, but they were a zombie who could go rabid without daily medication- how would you react?
This refreshingly original concept is the premise for the BBC Show "In The Flesh," which won the 2014 BAFTA for best Mini Series and created by BAFTA winning writer Dominic Mitchell and stars BAFTA- nominated Luke Newberry as Kieren Walker, a young man who has come back to life as a Zombie, or as this world calls them- a PDS sufferer (Partially Deceased Syndrome) and returns to his small home town of Roarton.
In this world there was the classical "Zombie uprising" in 2010 of all those that died in 2009. However instead of the world failing, scientists found a medical treatment that could repair the brain cells in their heads, essentially giving them their life back. Despite what many may consider a gift, the public reaction is mixed, while some are joyful to see their loved ones, others view them as a threat and call them 'rotters', while others have mixed feelings since moving on with their lives. Kieren, and the other PDS suffers face off with these challenges with mixed results.
The show brilliantly touches upon the subject with wit, humor, amazing character development and heartbreak. Without spoiling too much, one of the scenes that particularly struck me was during the first season finale when Kieran has emotional conversations with both of his parents regarding the cause of his death, in which the parents both give stunning and utterly memorable reactions. In addition to being a wonderfully original idea, it pays tribute where it can- like the company that makes the medication for PDS suffers and scientists who discovered it- Halperin & Weston- is a reference to Victor & Edward Halperin and Garrett Weston, who helped make what many consider the first feature length zombie movie: "White Zombie" in 1932.
The show is also notable for having a bisexual (who is mostly with men) character as its leading man, and he is in no way defined by his sexuality and that often takes a backseat to other things in his life. As a gay man I can't begin to describe how utterly cool that is to have a lead male character that dates men and its as normal as any of the 100,000th other shows which the lead character dates the opposite sex. Despite great strides being made in television nowadays to show members of the LGBT community, you rarely see a lead gay character, and when you do it's typically for a comedy. So seeing a leading LGBT character who isn't defined by his sexuality in a horror/ drama series is a great treat and something I'm hoping to see more of.
Another thing that strikes me is just how relatable it is- none of the actors are too Hollywood gorgeous (but aren't without their charms), they aren't too perfect or even too imperfect; they could be your neighbors, your friends or even your family, which makes it all that much more compelling and terrifying. The show is also able to touch subtly on social issues like racism and homophobia with chilling accuracy and shows no matter how progressive we might think ourselves as, we can always repeat history. Despite the show being about zombies you get a sense that the real monsters are the human ones which is about as haunting and brilliant as anything else in the show.
Recommended if you like:
The Walking Dead- both cover the the topic of the flesh eating undead, but in a much different, but still entertaining lights. Personally I prefer In the Flesh over Walking Dead.
Buffy the Vampire Slayer- filled with supernatural elements with excellent dashes of humor and wit along with well developed female characters.
Being Human BBC- supernatural horror mixed with everyday horror and British humor.
For people interested in the whole season, here's the YouTube channel with the first four episodes. If you get hooked, the rest of the Season 2 is on this YouTube channel.