Girls Finish on Top x2
Zoe Schwingel-Sauer
Staff Writer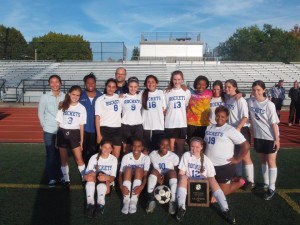 "We are the champions" seems to be a common phrase among the Science Leadership Academy girls' soccer team. This is the team's second year in a row winning the Division A Championships.
They won against PACHs for the division title. They beat PACHs 3-2.
The game that led the team to to the championships was against MaST Charter. It was a close call as the game was tied 2-2 at the very end of the game. It then went into overtime and Senior Korah Lovelace scored the winning goal after only 27 seconds.
The regular season record was seven wins, three losses. The teams that proved to be a challenge were Franklin Towne and Central.
The team is coached by History Teacher Matt Baird. The captains this year were Senior Korah Lovelace and Junior Alyssa Winner. The team had lost six graduates, five of whom were starters.
In the state qualifier round, the girls played Conwell-Egan for the second year in a row. Four starters were out due to injuries. Conwell-Egan advanced to states.
Coach Baird says that it is too early to determine if states will be a goal for the upcoming year, and comments that it will depend on the possible incoming freshman. He also acknowledges that the team has done very well the past two years.
The team as a whole definitely wants to make it to states next year.
Will three times be a charm?