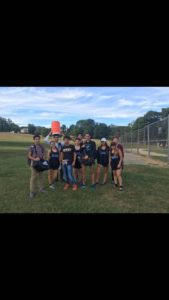 Aaron Watson-Sharer
Sports Editor
When fall comes around, our running teams aren't being eased into the sport like how we are into a sleep schedule. They're in the thick of their seasons committed to their teams. Science Leadership Academy has two major running teams in the fall, cross country and Students Run. We got the opportunity to ask SLA's best runners some questions. For example, as a runner, what team are you best suited for? How do these teams recruit for the fall season before the school year? These are just some of the questions we aimed to solve.
Cross country is a sport that is running on a terrain as a team. Terrain means grass, dirt, hills or any similar surface. Students run on the other hand, is distance training. Students run is an organization that prides itself on youth development through distance running. Their season last from March until November to partake in the Philadelphia Marathon. As a marathon is 26.2 miles long, a common competitive cross country run is five kilometers, or just north of three miles. Cross country assistant coach Daniel Symonds that "cross country has more of a focus on competition and team building."
If they're both running, what could be different? They can be distinguished through practice. Students Run practices mostly consist of mileage and endurance training. Corrs country practices have a variety of routines. Like hills, distance training, ab workouts and sprints. Cross country has much more team oriented practices that revolve around many physically challenging tasks while Students Run strictly builds endurance.
Where they do meet is in recruiting. As a public school, we can't directly recruit middle schoolers to Science Leadership for the intention of playing a sport. Instead, both teams go old school, get the word out person to person hoping someone has the drive to join. Kobe says "a few people join the team, and then they convince their friends to join."
Senior runner Kobe Nabried feels better suited for Students Run because he is a long distance runner and feels the training Students Run offers cater to his running skillset. On the other hand, Captain Tomas Arango says cross country pushes him more to be a superior runner. They both play for different teams, but they both share the common goal of striving for greatness.
A runner at SLA should pick their team based on personal passions. Not just the love to run, but how they wish to utilize their ability. If your aim is to run the marathon and Race for the Cure, join Students Run, they'll help you get there. If you want to play a sport that's more high school competition based, join Cross country.