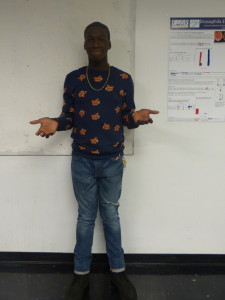 Exactly what are you wearing today, and do you know where each item is from?
I am a pullover sweater with levis jeans and black timberland 6' boots. I brought the clothes from Urban Outfitters and my boots are from Kicks USA.
What are some of your favorite places to shop, or what are your favorite brands? Why?
H&M, Urban Outfitters, The thrift store, pacsun, KARMALOOP.
What does fashion mean to you?
Fashion means to express yourself through your attire and how you can stand out           from others.
Do you consider yourself fashionable?
I think I know what's in style and how to be creative with my clothes.
How long does it usually take for you to pick out the outfit that you're going to wear for the day and what's your thought process as you pick out these clothes?
I throw on clothes so probably 10 min.
Who/What do you get your fashion inspiration from?
I get it from GQ magazine and looking in stores to see whats new and then i brand off of that. Also Kanye West he is my bro for life.
If you had to wear one outfit for the rest of your life what would it be?
I would wear sweat pants and hoodie with ugg slippers
What's your 1 dream outfit?
My dream outfit is this,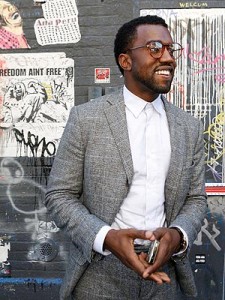 Interview By: Kenyatta Bundy Jr.