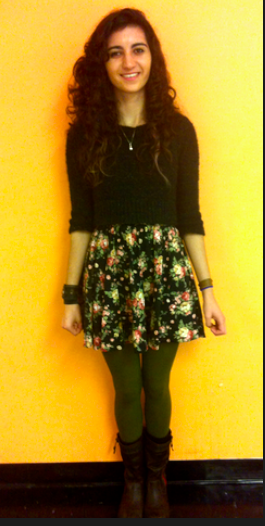 Would you consider yourself fashionable, to stand out fashion-wise amongst the students at SLA?
I don't know about fashionable, maybe just different. I think the only reason people think I stand out is because I'm not afraid to wear certain types of clothing.
Do you know which each item is from? If so, name the places you got it from.
My dress was from a little boutique in Allentown, my tights and socks were from Target, my sweater was from Marshals, and my shoes were from Steve Madden.
Your considered one of the most unique dressers in this school. Do you believe that you are?
 I did not know that. I do have some people tell me that I have an "interesting" sense of style. I think that's because I tend to mix textures and patterns. I also don't dress for anyone, I dress for myself. I dress how I feel that day. If I'm really tired I'll just wear jeans and a t-shirt, but if I'm in an extra good mood then I'll combine more and more colors. The reason I dress the way that I do, is because it makes me more confident. When I dress in "interesting" or "unique" clothing, I gain a lot of confidence. I've gotten used to the way people look at how I dress, and I make the style my own. 
Who is your fashion icon that you get inspiration from?
My Mom and Tavi Gevinson.
Where do you find inspiration?
My Mom, Nylon, and the 50's/60's/80's.
Where do you usually shop?
Boutiques in Old City, thrift stores, Target, and other random stores.
Interview by Dalena Bui