Hallway Fashion
By: Angelica Owens
Staff Writer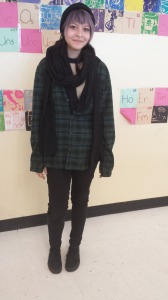 Who influences your outfits?
For special occasions a lot of my influences are influenced from tim burten, bands, directors and movies that I watch. I'm not really inspired from anyone particular. I put pieces of clothes that I have and make outfits out of them.

What style of clothing do you categorize yourself as wearing?

I don't know. People tell me I'm punk rock or gothic. I go forever I like to wear. I don't like to label because I wear all type of stuff.

What clothing store is your favorite?

I shop online most of the time but if I do go to stores, I go to Hot topic a lot or zumiez but if I shop online ill go on webites like dolls kill and too fast. I also shop at "crash, bang, boom."

What clothing store do you shop at the most?

Between Hot topic or crash bang boom

Who picks out your clothing? Do you have anyone approve your clothing?

When I was younger I couldn't wear what I wanted but now I decide what I wear and no one really has a say. For the  most part I choose what I wear.

How did you develop such a unique style of clothing?

I guess I looked around at a lot of music artist I like and I really like costume clothing. It's all about layering and you can do so much with it so I guess movies and artist I listen to.

What kind of fashion advice would you give people?

Don't let anyone tell you what to wear or what not to wear. You can try to experiment so you can figure out what you like to wear. Try collecting clothing to make things stand out. Don't be too skimpy but I don't judge so if you are younger don't be to skimpy.