Hallway Fashion
By: Angelica Owens
Staff Writer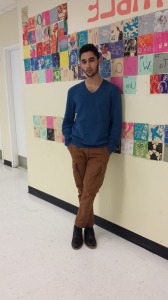 Who influences your outfits?
My stepmom. She introduced me to style and I give her praise for doing that. The second one is lady gaga because she is fearless and her ambitions.
What style of clothing do you categorize yourself as wearing?
A eclectic style. I don't follow trends
What clothing store is your favorite?
Gap outlet and Banana Republic
What clothing store do you shop at the most?
Gap outlet
Who picks out your clothing? Do you have anyone approve your clothing?
I pick out my own clothing. I don't have anyone who gives me approval however I do like to get an opinion of my stepmom.
How did you develop such a good sense of clothing?
Experimenting and gaining confidence in myself was a large part of it. I was able to transfer it into what I wore and know that I would look okay either way just because I was comfortable in myself.
What kind of fashion advice would you give people?
Don't follow rules and don't spend too much time on it because fashion is fun and exhilarating and it shouldn't give you a headache when you put it in.