Hallway Fashion
By: Angelica Owens
Staff writer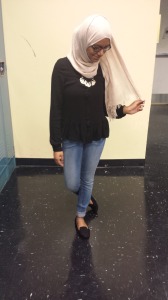 Who influences your outfits?
A lot of people. I like street style a lot, fashion bloggers, Alexa chung (former model who does fashion related things). I think she is absolutely gorgeous and her fashion style is amazing.

What style of clothing do you categorize yourself as wearing?

I dont think I can categorize myself, I have south asian, edgy, girly, more boyish clothes. I have a lot of different styles.

What clothing store is your favorite?

If i was rich, Urban Outfitters but since I don't have Urban Outfitters money all the time I also shop at H&M, Nordstrom, Brandy Mellivile, and forever 21.

What clothing store do you shop at the most?

Probably H&M and forever 21

Who picks out your clothing? Do you have anyone approve your clothing?

Not really. My parents aren't strict at all with what I wear. They never judge me. I have a mental checklist that I follow. Because I am a muslim woman, I believe in modesty so I make sure I fit the protocol.

What kind of fashion advice would you give people?

Be yourself in whatever you wear. Don't buy anything just because anyone is wearing it. I tried it for a while and it hasn't worked for a while so just be yourself and you will feel more beautiful in it.