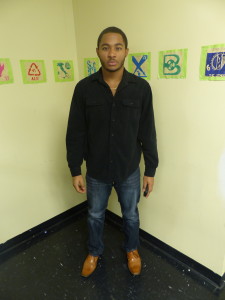 Exactly what are you wearing today, and do you know where each item is from?
My top is from Gap, my jeans were from Gap, and my shoes were from designer that my mom got.
What are some of your favorite places to shop, or what are your favorite brands? Why?
My favorite places to shop is Gap because it has nice quality, I just ignore the fact they use child labor.
 What does fashion mean to you?
Fashion is not anything you feel like is right, that is not fashion. Fashion is, just anything that fits the description of where you're going and what you're doing.
Do you consider yourself fashionable?
When I try.
How long does it usually take for you to pick out the outfit that you're going to wear for the day and what's your thought process as you pick out these clothes?
15-20 mins, and I try to match dark and dark, with light and light. That's all .
Who/What do you get your fashion inspiration from?
 Probably my grandfather.
If you had to wear one outfit for the rest of your life what would it be?
Probably a short sleeve Henley with a denim pocket, blue Gap jeans, and some blue converses.
What's your 1 dream outfit?
I'd have a Burberry trench coat, Versace sweater, the jeans don't matter, and Louis Vuitton oxford shoes.
Interview By: Kenyatta Bundy Jr