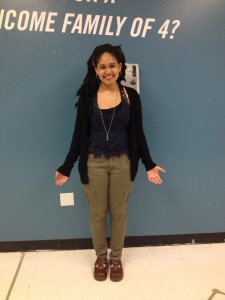 Interview by Kennedy Coverdale ( Staff Writer )
What are you wearing today, and where is it from ?

I'm wearing a lace shirt thats from Buffalo Exchange, cargo pants from Marshalls, black cardigan from Old Navy, a crystal necklace that was given to me as a gift, and my Mary Jane Doc Martens that I got for Christmas.

What are your favorite brands/stores?

Anything that fits me and won't wreck the bank. But I do like Adidas.

What does fashion mean to you?

Fashion is an expression of who you are and how you carry yourself. Like you can tell someone's mood from the way that they're dressing.

Where do you get your fashion inspiration from ?

My closet.

If you had to wear one outfit for the rest of your life, what would it be ?

It would be like Lupita's dress from the Oscars. It looked really nice and comfortable.