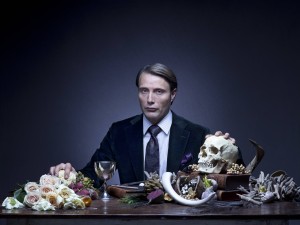 Sean Morris
Staff Writer
While the headline  statement may be bold, it goes to show that NBC's Hannibal is nothing short of a masterpiece. Plain and simple, it's one of the most underrated and looked aside but remains to be one of, if not the best shows on television right now. From the beautiful, soulful acting to the artful cinematography, to the razor sharp costuming, the detailed sets, to poetic dialogue to even the careful color selection, Hannibal is a series that pays attention to the slightest details. In the hand of any other creator, Hannibal would have been another regular gritty police procedural, but showrunner Bryan Fuller has done something else- he's elevated horror to an art form.
The series follows Special FBI agent Will Graham who has the unique ability to empathize with even the most savage and insane of serial killers. Head of the FBI Behavioral sciences Jack Crawford enlists Will to get into the mind of these killers in the hopes of catching them, but Will soon develops unsettling side effects and nightmares following his  visits into the deranged minds. To help him cope with the trauma, they enlist renowned and cultured psychiatrist Dr. Hannibal Lecter, who takes will as a patient. Naturally, Hannibal is actually the most deranged of them all and sends Will down a metal spiral, along with meeting other characters from Thomas Harris' books including the tough Jack Crawford, the insane sadistic Mason Verger the smarmy Dr. Chilton, and this season the terrifying Red Dragon himself, all in this acclaimed series (can't underestimate that; it's one of the few shows to receive 100% fresh on rotten tomatoes, beat every show for Hulu's Best of the best, praised as one of TV'S best shows by IGN, A.V club,TVGuide.com, and New York Magazine; who called it "Bolder and more elegant than True Detective", and "The best drama and Network television" to which I agree).
The visuals are in no small part of what makes the series so enjoyable. How the cinematography teams does Will's visions, the transitions from scene to scene, the remarkable zoom ups and masterful costuming- from Hannibal's beautiful three piece suits ( in my opinion, he's the best dressed man on tv, (eat that, Don Draper) to journalists Freddy Lound's unique style and more.specially the cooking scenes in which Dr. Lecter is serving up meat of human beings- dear God does it look good and tasty. All of this goes to show that the eyes are never left hungry  (if you'll pardon the pun).
Among the things I love about this show is that it doesn't pander to its audience. It treats them like intelligent human beings and its shows through the artful metaphors, dialogue and brilliant plotlines shown. It's able to sneak in references to the books and movies by using dialogue, but it always feels natural and leaves fun easter eggs for fans. It's cast is also wonderful, with strong performances given around, especially by Hugh Dancy, Laurence Fishburne, Gina Torres, Michael Pitt, Gillian Anderson and undoubtedly Mads Mikkelsen, who nails it so much as Hannibal I might have to say he's the best version ,although it's up for debate. It also has a wonderful selection of female characters, not yet including Ms. Clarice Starling, who NBC is fighting for the rights to her character who were lacking in the original content, including changing the gender of two who were previously male. One of the biggest concerns in making this series for a lot of people was that it would cover old ground- when it fact it does the opposite although they are starting on novel adaptations and is able to re-write material and change it up in bold, new and exciting ways. Another great aspect is its fans, deemed "fannibals" who are able to make HILARIOUS comics and memes posted below, stunning artwork and also has a wonderful showrunner who constantly engages and tweets with fans as well as other cast members posting concept art, symbolism and more, many times in real time with the episode.

Series 3 returns on June 4th and you can find the previous two seasons available on demand and on Amazon Instant streaming. I highly recommend this show to anyone with a taste for enjoyable television, trust me you won't regret, you'll just be hungry for more…