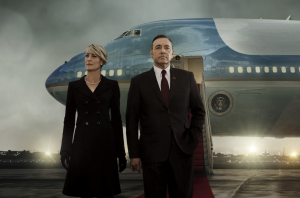 Sean Morris
Staff Writer
*Warning: There will be some spoilers up ahead*
When I started watching this  season, I was expecting for it to be the last. With the previous seasons being about the Underwood's ruthless, and bloody, path to the coveted White House, once they achieved their goal, where else to go but down and let their House of Cards tumble? That's what they did in the original British version of the series, so why wouldn't it be the same here?
Turns out that not only was not the case, but by the end of season 3, I can see the show being  around for another two seasons. What I don't know is if this is for better or worse.
Taking place a few months after season 2 ended,the new president Francis Underwood is a failure and seemingly can't get anything done but turns his presidency around when he announces he isn't running for re-election in 2016. His stated reason is so he can focus on his time in office, specifically on his new jobs- creating- program America Works, or Works for short. While this is an obvious ploy, his efforts suffers derailment from the Republicans in congress and an opponent in his eventual run for presidency- the strong willed Heather Dunbar. This season, Francis (whose hair shows clear graying throughout the season- a nice little detail) also deals with disputes on an international front along with the new United States ambassador to the United Nations, who is Claire Underwood, his own wife. They deal with the chaotic Middle East region of the Jordan valley and with the formidable Russian president (played wonderfully by Sherlock's Lars Mikkelsen).
One of the choices that polarized fans  was the expanded role the new season  gave Doug Stamper, who was presumed dead by many (including myself) at the end of the last season. While he had some good moments,ultimately I felt his character was at worst unneeded and at best poorly used in the season. The main problem was a story arc (the disappearance of Rachel Zane and the hunt for her) that felt, like much of Doug's storyline, could have been condensed immensely by like half of the season. It also bothered me how a big part of Doug's storyline was used in the season premiere, which really should have been spent more on the principal characters.
Speaking of which, I also found some of the characterizations of the Underwoods themselves a bit off this season. It seems unusual that someone of franchises ruthlessness would allow his presidency to become such a failure as it was at the beginning. I also missed his talking to the camera as he's done before especially with long pauses on him alone without say anything to us. He gets some of his best and most quoted moments from these gems. I will say, though, that I enjoyed the expanded role Mrs. Underwood had this season with becoming the Ambassador to the united nations. However, I felt that some of her decisions, especially the BIG one at the very end of the season, felt out of character with her wants and goals. She describes them as being tired of a mutual dependency on Francis, yet with her position and placement the option she seems to take would only serve to hurt her, rather than advance her more.
I'm not the only one who has had decisive thoughts about Season 3. Senior Nikki Adeli felt there were more drastic and dramatic moments in Season 2 then compared to season 3. And that it was only the later ones that seemed truly important. And she also agreed that Doug's storyline was drawn out and commented that the foreign policy seemed a bit unrealistic. Several critics also had some more polarizing thoughts concerning the season as well.
In the end, the season had both highs and lows, but more of the latter than the former. Like I said in the title, it seems the show is going to be expanded because of its monstrous success. Obviously Netflix wouldn't want to lose such a big property because of the revenue and acclaim it brings, but at what cost for its quality? It currently has such a number of unresolved storylines that I would feel cheated if they ended the show with the next season (depending on time gaps and whatnot) but I hope they can improve on their proven writing capabilities.