Is it Worth it?- Sports Talk with the Straight Shuter
by Jesse Shuter
Staff Writer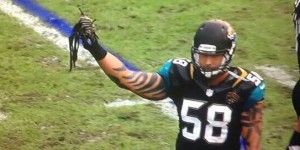 Courtesy of http://ftw.usatoday.com/2013/11/ jason-babin-dreadlocks-andre-ellington/
In sports today, you hear about injuries every day. Whether it is a high ankle sprain, a concussion or even an ACL tear. They are happening more and more often each year. Throughout this article I am going to focus on these types of injuries in the NFL, although what is said here can be applied to almost any professional sport.
Players continue to put themselves at risk by trying to get every last yard instead of maybe taking a few less yards, but walking away injury free. Some injuries happen to be more gruesome than others.
Sometimes these players get lucky and nothing happens and they don't realize that they are putting themselves in harms way because they walk away healthy. Other times, they get hurt whether for the rest of the game, a week or even a season, yet they still are willing to risk it all the next time they get a chance.
Then there are the unlucky ones. The most common example is Joe Theismann. Theismann was a quarterback for the Washington Redskins and was an extremely talented quarterback with the rest of his career to look forward to. Then tragedy struck.
Theismann was playing in a game against the New York Giants and was getting blitzed by the opposing team's defense. The blitz was working because a few players broke through the offensive line. One of the players happened to be Lawrence Taylor. Lawrence Taylor is a hall of fame player, and is known as possibly the best defensive or even the best overall player of all time.
Theismann was not able to avoid the oncoming traffic of players and took the sack for a loss of yards. The sack was not the end of the play, however, because as he was getting sacked, Lawrence Taylor came flying in to finish the job and landed on Theismann's leg.
If you have ever seen this play, you know what happens next. Lawrence Taylor was beginning to celebrate the play when he heard a scream of agony behind him. He spun around to see Theismann laying of the ground with a leg bone split in half. The injury was so horrible that Theismann could never play again and that play ended his career early.
There are some other more recent example of gruesome injuries. Two from this year come to mind, and both of these players are on the same team. These players are Andre Ellington and Rashad Johnson of the Arizona Cardinals. Johnson's injury came earlier this year.
Johnson was just making any old play that day when Darren Sproles of the New Orleans Saints was running with the ball and he tackled him, no big deal right? Well it turned out that when Johnson stood up, he was a little bit lighter. The top of his middle finger was gone. How? You might ask, but not even Johnson knows. According to Johnson, his best guess is that the finger snapped off when he hit the turf, not when hitting Sproles.
The other situation happened this past Sunday (11/17/13). Andre Ellington running back for the Cardinals was handed the ball and took off. He was met by Jason Babin, a defensive player for the Jaguars who tackled him. However, Babin tackled him in an interesting way. Babin tackled Ellington by the hair. In fact, he tackled so hard that he pulled the dreadlocks right out of his head.
Luckily both of these players were able to return to play very soon after their unfortunate and extremely painful injuries.
The Take Away:
So here comes the question. Should these players be risking injury to such an extent? I say yes.
Now everyone today is concerned about the players health and rightfully so. However I feel that it is getting way out of hand.
The NFL continues to try and makes it's game safer for the players, but at what cost?They are ruining the integrity of the game, all these rules are making too hard for the players to do their best.
I do agree, however, with the no head to head hits rule because I feel that concussions are the biggest threat to players because of the affect they can have on the players in the long run, after their football careers are over they should still possess all of their mental faculties.
I respect players that give it 110% and risk their health for the benefit of their team. If I were running a team those are the type of guys I would want. It shows dedication and respect to themselves, their team and the game to try as hard as these players do.
As I said last week in my column about Pat Tillman here are so few players that are good people and that care for other people more than themselves. This is why I respect players that give it all each and every day.
Courtesy of http://www.azcardinals.com/news-and-events /article-2/Rashad-Johnson-Fingertip-Loss-Got- 9-more/9fc32981-1f41- 406c-9a5c-b704948351b4
Shuter's Sleeper of the Week:
Zac Stacy (RB) Rams-
This week the Rams are playing the Bears at home coming off a bye week. These are the same Bears that made former stud Ray Rice who has been struggling all year look like his former self. This is a matchup made in heaven and as far as I am concerned, Stacy is a must start in any and every league.