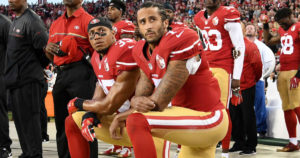 Benjamin Simon
Sports Editor
I have never put my hand over my heart during the National Anthem.
I grew up with a father who consistently expressed his distaste for America. He fantasized about living somewhere else and always balked at any forms of patriotism. For him, that included putting your hand over your heart.
As I grew up and began to form my own opinions, I thought about whether or not I should place my own hand over my heart during the National Anthem. Everyone else around me put their arms over their heart. The athletes I revered put their hands over the chests. Why shouldn't I?
But I also noticed that America was not the best country in the world. It did not deserve to be praised and put on a pedestal all of the time. To me, refusing to put my hand over my heart felt like a small act of defiance. Even though no one ever noticed, it was a way of expressing that I did not love America. It did not have my heart.
Now, the same method that I grappled with for much of my childhood, is making its way into the limelight.
On Saturday September 27th, the players of Philadelphia's high school football team, Overbrook and Mastery North, took a knee during the National Anthem. That happened a month and thirteen days after Colin Kaepernick first took a knee during the team's week one preseason game in protest of the treatment of African Americans in America.
His actions, which skyrocketed on August 26th when Jennifer Lee Chan of Niners Nation snapped a picture of the 49ers national anthem, have erupted within sports and the world.
Countless numbers of professional football players have followed suit, raising their first during the anthem and/or taking a knee. Some had locked arms, trying to show unity in the presence of a flag.
Now, high school athletes are doing the same. And there isn't a better way to go attack the issue and spark conversation.
Throughout the last couple years, supporters of the Black Lives Matters Movement have tried to stir the conversation through almost any method. But without a doubt, Kaepernick's acts have to be one of the most influential. It has not only captured the black community, but captured the entire sports community, encouraging healthy debate.
Kaepernick, in specific, has handled the entire situation with such grace. When he received backlash for being too harsh with his protest, Kaepernick lightened up his stance, opting to kneel in the face of the flag instead of sitting on the bench. He clarified his stance and eloquently explained why he was sitting so the average American could understand his goal.
"The media painted this as I'm anti-American, anti-men-and-women of the military and that's not the case at all,'' Kaepernick said to the USA Today earlier this season. "I realize that men and women of the military go out and sacrifice their lives and put themselves in harm's way for my freedom of speech and my freedoms in this country and my freedom to take a seat or take a knee so I have the utmost respect for them."
Kaepernick has done everything right and others have followed suit. Cornerback Jeremy Lane of the Seattle Seahawks was the first player not on the 49ers to join Kaepernick. Denver Broncos' linebacker Brandon Marshall decided to take a knee in the season opener, risking tons of his endorsements and his own livelihood. Marcus Peters of the Kansas City Chiefs followed soon after, but this time, raised his fist during the anthem. And so many others have done the same. The wave of interest has been abundant from fellow football players.
This is all great and it has sparked so much appropriate discussion. But it needs to stretch a little further.
A white male athlete in a major sport needs to do the same.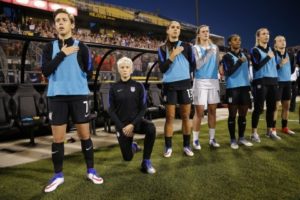 Megan Rapinoe, a white, U.S. national women's soccer player, kneeled for the National Anthem before a game against the Netherlands. Two other WNBA players, Jeanette Pohlen and Maggie Lucas, also did the same.
While their actions were wholesome, the support of a prominent white male athlete in a major sport would be gigantic. Too often, that responsibility falls on black athletes. A white athlete needs to take a stand and speak up for their coworkers, friends, and fellow Americans.
"You need a white guy to join the fight," Seattle Seahawks' Michael Bennett, a large part of the Black Lives Matter movement in the NFL, said to the Seattle Times. "The white guy is super important to the fight."
There are many distinguished white athletes in sports today that have the option to speak out. The Manning brothers, Aaron Rodgers, Drew Brees, Kevin Love, and Clayton Kershaw are all examples of athletes who have the platform to make a difference. Saying something as simple as, "black lives do matter," would help advance the fight that much further. Kaepernick has given them the space to make to stand up for what's right. White athletes need to take advantage of that for the better of our country. 
As a white high school student athlete on interracial teams, I see myself in the position of athletes on both sides. I am a person, regardless of race, who is upset with the way country is ran. I do not feel the need to praise it.
What Colin Kaepernick has done is given Americans the opportunity to feel comfortable speaking out in the face of oppression in the country: from football players to high school students to people of all races. Everyone should use it.
First photo: Thearon W. Henderson/Getty Images
Second photo: Kyle Robertson/The Columbus Dispatch via Associated Press