By Lauren Nicolella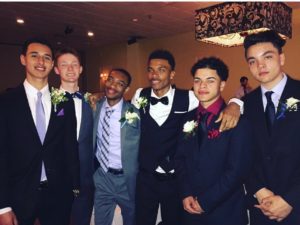 Staff Writer
For high school students across America, prom is supposed to be a very exciting and memorable moment. Unfortunately, Science Leadership Academy almost had to cancel this year's junior prom due to the lack of ticket sales for the event.
As of mid-March, only 20 tickets had been sold, which did not meet the minimum required sales of 75 tickets.
Luckily for the class of 2018, there was a donor who contributed, which lessened the price from $50 a ticket to only $25 a ticket. Details about the donor was have not yet been  revealed.
The prom is going to be held at Galdo's, a catering and entertainment complex located in South Philly. According to Ms. Pahomov, the venue had raised their overall price for using the space which caused tickets to be fairly expensive.
Health teacher Pia Martin talked about reserving the space: "when you're working with a catering company, they ask you how many people you're going to bring. And you usually low-ball that number, because you can always add more, but you can't take away."
There were mixed emotions throughout the class from those who wanted to attend, and even those who didn't care that much.
Junior Deja Harrison had already bought a ticket in advance, having plans to attend the prom. "I was really upset that prom was in danger of being canceled because we were the first class with this problem."
Junior Mekhi Granby had a different level of interest, but still shared his reaction. "I was shocked, but it didn't affect me because I had and still have no plans to attend junior prom."
Some students believe the junior class has a reputation for not having as much school spirit or unity as the rest of the school. Ms. Martin talked about how she noticed this.
"I'm not really sure if there's one unified reason why. In terms of cohesion, the junior class is a lot of individuals and I think that they value their individuality and so it takes a while for them to gather momentum and say as a unit, 'we will do something'."
Deja Harrison added onto this point. "I do agree that we are very low on school spirit. I try to organize things for us to all do together but it never really works out."
Then there was a mention of a possible prom committee, but the variety of tastes and the lack of a gym for decorating present difficulties to making that a reality. Instead, there could possibly be a change in where prom is held in future years.
Ms. Martin talked about that plan a bit further.
"If people are interested [in a prom committee] I was going to ask to meet with the juniors sometime this year to perhaps look at another place, since we know that Galdo's is going to be legitimately $50 a person."