By Jacob Lotkowski
Staff Writer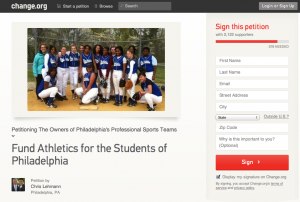 The Philadelphia School District is rolling out 300 million dollars in cuts to schools for the 2013-
2014 school year. These proposed cuts would include a complete elimination of 7.1 million dollar (2011-2012) athletics program for every school in the district.
Principal Chris Lehmann wants to change that.
With his petition on Change.org, Lehmann trying to get the attention of Philadelphia's highly profitable sports teams, the Phillies, Eagles, Flyers, 76ers and Union to tap into the vast expanses of revenue, about a combined total of 800 million dollars (2012), to fund the district's sports leagues.
There appears to be no precedent for private sports teams funding public programs in such a large, systemic manner. However, donations coming from players on Philadelphia sports teams are not unheard of.
In June of 2012, The Cole Hamels foundation donated more than $400,000 to three schools for updates of their playgrounds and libraries. The foundation was hoping that these projects would help keep these schools off the chopping block–but in January of this year, they were slated for closure.
Although this donation wasn't able to save any schools from closing, it is that same type of philanthropic spirit that this petition is trying to get out of our hometown sports teams.
The petition has been picked up by local news NBC 10, The Philly Post, The Notebook and Philadelphia Business Journal. The petition has gotten more than 2,300 supporters total, but public interest peaked last week and signatures have since plateaued.
The School District is currently looking over the proposal and Lehmann is awaiting their response.
Until then, the only thing that can move forward is the number of signatures on the petition and awareness of the looming 2013-2014 budget cuts.