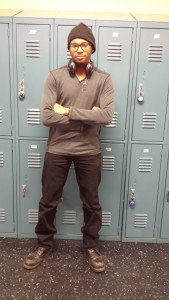 Angelica Owens
Staff Writer 
Question:
Note: The movie does not have to be actually nominated but just an opinion of the interviewee.
What movie should be the oscar best picture and why?
I think The Lego movie should win the award of best movie nominated or not, because they started the process of getting everything approved in 2005 and was able to start script in 2007, then were able to started making the movie in 2011. They put a lot of work in it, they didn't just take a year or so and just spit out a movie. They put in a lot of dedication and I respect that. I was disappointed that they haven't won any awards for it yet. The visual effects were excellent, they had a great combination of animation and stop motion. Also for a pg movie it still kept me interested and entertained using a mixture "kiddie jokes" and a few "adult" jokes that were slipped in and in a way were it wasn't too obvious. I think the story was really original. I liked how they used a subject where many people grew up on and kids this days grew up which are legos. What made it better than other movies with the same concept like Transformers and Teenage Mutant Ninja Turtles is that they were able to come up with a completely new story because there never was one in the first. Another reason is because there also wasn't anything to base it off of like Teenage Mutant Ninja Turtles where they say they had a few facts wrong with the characters. As well as the story and concept, I liked the cast. The scenes where Morgan Freeman's character had to make ridiculous noises had me imagining him in the sound booth looking like a crazy man along with other actors who had to scream in some scenes. Also the whole ending and moral of the movie was that everyone is creative in their own way and that everyone has the right to express it. No one should hold you from being the best you can and if people are bringing you down and don't believe in you.. You should believe in yourself regardless and stay true to yourself, if you do so you can accomplish your wildest dreams.