Meymey Seng
Staff Writer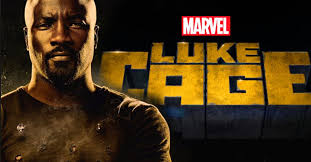 On September 30, 2016, Netflix recently put out Marvel's first TV series starring a black superhero. He goes by the name of Luke Cage, and has special abilities, such as unbreakable skin and super strength.
He was first seen in Marvel's Jessica Jones, where he was the owner of a bar in Hell's Kitchen, New York. In that series, he had a relationship with Jessica and was determined to help her take down a villain named Kilgrave, but that's a story for another time.
Their relationship did not last, so he decided to move to Harlem, New York, which is where the Luke Cage series began. Wanting to live a normal life, he becomes a janitor at Pop's barber shop, and a dishwasher and bartender at the club "Harlem's Paradise".
Of course, things are not as calm as expected, and a lot of crimes are happening all throughout Harlem. Luke wants to stay out of it, although Pops, the owner of the barber shop, pushes the idea that he should make use of his abilities and help.
With the convincing from Pops, Luke decides to take action and is awarded the title "Hero of Harlem". He denies being a hero, claiming that he just can't sit back and watch the chaos happening around him. The rest of the season follows that theme.
Before watching Luke Cage, the show that got me hooked onto the Marvel TV series was Jessica Jones. Personally, I was never a huge fan of Marvel. I could recall watching Spiderman a bunch of times, although I can never remember actually watching the full movie, along with other Marvel productions. So, when my friend recommended Jessica Jones for me to watch, I was very hesitant. They say never to judge a book by it's cover and this is also true for TV series.
After a couple weeks of pushing this show to the back of my mind, I decided to try it. I clicked the first episode, expecting not be to be into it and I was most definitely wrong. The ending of the first episode caught me off guard and I had the urge to watch episode two. This craving continued and I finished the season in three days. I immediately started Luke Cage right after.
Although Luke Cage is an amazing show, I have to admit, it starts off slow. The first episode was an intro to the show, describing everything. It starts off with Luke, Pops, and the customers discussing basketball. The slow pace continues until halfway through the episode, when the three boys that regularly goes to Pop's barbershop: Chico, Shameek, and Dante, steals money from Cottonmouth, who is the owner of Harlem's Paradise.
To conclude, with the humor, history, romance, action, and suspense of this show, I would highly recommend it to anyone who wants a good watch. Some of the actors that I really liked in particular were Mike Colton who played as Luke Cage, Mahershala Ali as Cottonmouth, and Alfre Woodard as Mariah, who was the councilwoman. What I liked about Mike Colton was his realistic acting and determination. In order to fit the role of being a very masculine man, he changed his diet and workout plan, resulting in gaining thirty pounds of muscle! Also, Mahershala Ali was able to convince me into believing that he was a ruthless character, until seeing his backstory. His backstory made me wonder if he is fully at fault for his actions if that was how he was raised? I also really enjoyed Alfre Woodard's acting because she was able to make me hate her character and I constantly had to remind myself that she is not the actual character.
Now, my perspective has opened and I've learnt to not judge a show just by what it's apart of. It turns out that I'm actually very intrigued with these Marvel productions. I can't wait for the following series of Luke Cage to come out, which is called Marvel's Iron Fist. This is said to be released on March 17, 2017.