by Meymey Seng
Staff Writer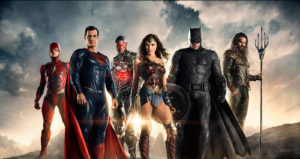 Justice League is the latest movie that can claim the "one most expensive to produce" title, with the heaping total of 300 million dollars. What does this investment get the viewer? Supervillain Steppenwolf and his group of parademons plan on taking over the world. Even though Superman is no longer alive, Batman decides to recruit a team to prevent the villain from succeeding.
Who would Bruce Wayne choose to tackle this mission? First, he went to Diana Prince, or Wonder Woman. Having been raised on an island filled with powerful women warriors, she has learned impeccable fighting skills. Along with that, she has a very useful tool called the lasso of truth, which when wrapped around a person, would force them to blurt out the truth.
Batman himself actually has no superhuman abilities but is clever, strong, and is very rich. Together, the two looked for other people to join them.
When Batman first went to recruit the Barry Allen, or called the Flash, Allen denied having abilities, since it is something that is hidden. Batman revealed himself by throwing a batarang (Batman boomerang) at him, causing the Flash's reflexes to catch it in lightning speed. Flash then is immediately on board, not even fully knowing what he just became a part of.
Afterwards, Batman recruited Aquaman who is able to control water and communicate with underwater creatures. Lastly, Wonder Woman was able to convince Cyborg to join, who is very skilled with technology, after persuading him to take advantage of his abilities.
Before watching Justice League, the only other DC film that I've watched is the movie Wonder Woman. That movie, was amazing, so my expectations for Justice League was set high — but I was walking in without much basis for comparison.
Without knowing much about the other characters in the Justice League, I was still able to understand what each character is capable of, which means that the writers did well in explaining the roles.
Although, at certain points of the movie, there was a lot going on in some scenes which made the understanding of the movie difficult to follow. For example, there was a fight scene with characters and objects that were not introduced yet.
At the start of the movie, there is a scene with Superman and how he was killed. It seemed strange to me that there was such a big focus on Superman. (Warning, spoilers ahead!)
When he was revived from the dead, he was very out of place and confused, wanting to kill everyone in the Justice League. With one smack he was able to push Wonder Woman very far and was able to defeat the rest of the group so easily. This surprised me because they should be just as strong as he is, especially since it was five against one.
Aside from that, the other action scenes were very captivating. For example, watching Wonder Woman fight was a highlight for me, I just thought it was shot nicely. Towards the end of the movie — surprise, surprise — they were able to defeat Steppenwolf, making him so weak that his army of parademons killed him.
Overall, even though some aspects of this movie was confusing or not as memorable, I still think it was a great watch.