Mekhi Granby
Staff Writer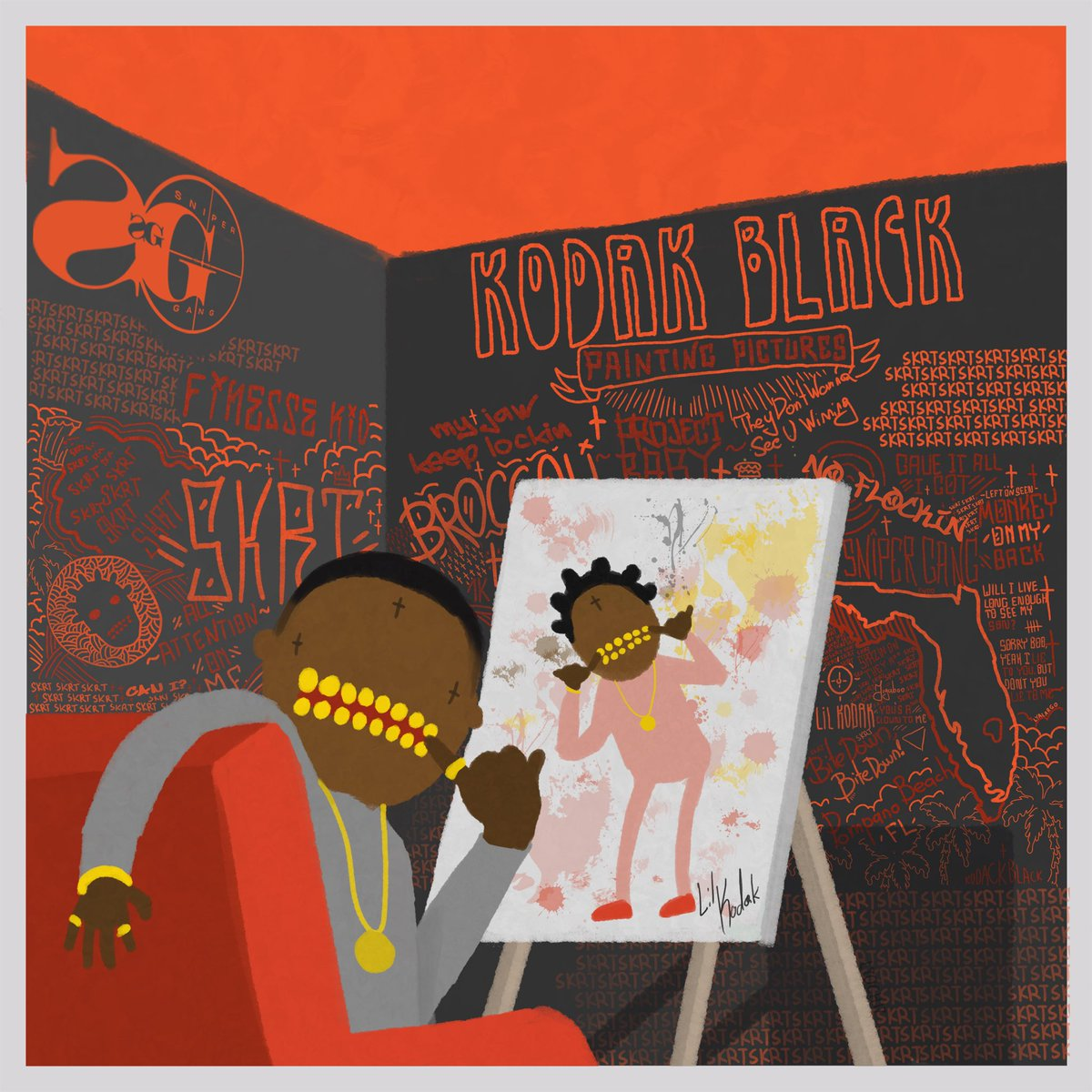 Dieuson Octave better known by his stage name Kodak Black is an American hip hop/rap recording artist. Born on June 11, 1997 in Pompano Beach Florida, also where he was raised. Since early childhood Kodak Black has been in and out of conflict with law authorities, being sent back and forth to prison.
After releasing multiple mixtapes and singles, Kodak Black delivers his 18-track debut album "Painting Pictures" on March 31, 2017 along with a documentary titled "Project Baby."
As an official debut album this project is a huge representation of Kodak Black as an artist. Does it live up to the hype? I will be giving an in-depth review of Painting Pictures, track by track.
As an intro this song is purposefully placed as it sets up the mood for the album. It's a very mellow song with a monotoned Kodak Black as he talks about incarceration and why he continues to pursue music. I like this message of this song and the instrumental is relaxing.
Track 2, another mellow song featuring a calm/smooth instrumental with melodic vibes from Kodak Black. This isn't one of my favorite tracks because the chorus isn't that great and I think it could've contained more substance.
Track 3, I have no choice but to skip this song everytime it comes on, this is by far the worst song on this project. The instrumental is alright but the lyrics are complete garbage, I've never heard of Bun B and after listening to this song I realize why. Not a good song to put on the album aka a throwaway track.
Track 4, sadly another throwaway track. I cannot listen this song, a very bad performance by Kodak Black on this song. The lyrics are irrelevant and the instrumental is better than the artist rapping on it.
Track 5, Kodak redeems himself from the previous two tracks. The vibe, chorus and instrumental is what attracts me to this song. Kodak talks about the some of the crimes and activities he did/does in his life and calls out everyone who hasn't done these things claiming that they did.
Track 6, the most annoying song on the album in my opinion. I assume the number 28 has a lot of significance to Kodak Black for him to make a song about it but I really do not like this song at all. It's very repetitive and pointless in terms of contributing to the rest of the album. I would recommend skipping this song to those who listen to Painting Pictures.
Track 7, kind of an ironic song but also one of my favorite songs from the album. I say it's an ironic song because the instrumental and vibe of the song is uptempo and happy, (the use of the piano definitely contributes to this) but the lyrics aren't. While bragging about his wealth Kodak Black says "I clap a nigga like patty cake." Patty cake is a popular children's hand game which includes a lot of clapping. Kodak uses "clap" meaning shoot.
Track 8, one of the better tracks but I always skip it, on this song Kodak talks about his love for women and how he can use his wealth to support his significant other. He expresses how much of a great partner he'd be in a relationship. The chorus is catchy and the instrumental fits the song perfectly.
Track 9, out of the five songs with features I find that this one is the best executed. This song has a high replay value in my opinion, I like the collaborative effort from both Kodak Black and Future on this song. Definitely a song to check out from the project.
Track 10, the first single to appear on Painting Pictures, Kodak utilises his melodies and creates a catchy song along with a music video containing an insightful message about the current state of the United States concerning racism.
Track 11, going back to the original theme of the intro Kodak raps about receiving money while being incarcerated. He connects with inmates while reminiscing on the days he was locked up.
Track 12, a laid back instrumental with calm lyrics and a melodic chorus from A Boogie Wit Da Hoodie. Kodak reflects on the days when he didn't have much and the days he was stuck in jail. He appreciates everything he has now and says that he doesn't want to go back to living those ways.
Track 13, I dislike this song. It contains a bad message to the youth and impressionable minds about disrespecting relationships and chasing females in a committed relationship and harming their significant other. Don't get me wrong, there are many worst songs out there about much worse topics which contain even worse messages but I'm only stating why I dislike the song.
Track 14, my absolute favorite song from Painting Pictures. This song is extremely catchy with smooth lyrics from Kodak Black over a relaxing instrumental. This track talks about Kodak working hard to earn all the luxuries he has. Definitely one of my top recommendations.
Track 15, this song features a lot of vocals from Young Thug with the first and third verse going to him along with the chorus. This was a good collaboration but it sounds more like Young Thug's song rather than Kodak's. The song talks about luxury cars and women.
Not one of my favorites, nevertheless track 16 is an alright song. I never liked Jeezy so this collaboration isn't appealing. Definitely wouldn't recommend this to any new listeners.
Track 17, as the album comes to an end, Kodak expresses his final thoughts and emotions. On this song he decides to explain the significance of his stage name. This song features a more uptempo beat with a slightly aggressive Kodak. Leading into the outro I feel like this track could've been a lot better or replaced with a different track.
Track 18, the second single to appear on the album. Definitely a smart decision to add this song on the project as it's a fan favorite along with Tunnel Vision. This songs currently sits at 87 million views on youtube. I like this song, simple lyrics over a relaxing beat; Kodak's signature style. Good choice of an outro as most fans already know and like this song.
Readers should give this album a listen because it's a debut album! The most important project for a new artist is their first one, it introduces them to a bunch of new people as hype and anticipation collide from fans, artists receive more attention. It properly represents who Kodak Black is as an artist and will be a memorable piece of his career as he propels and continues to create music. I would recommend tracks 1, 2, 5, 7, 9, 10, and 14 to any new listeners as these are the best executed in my opinion. If you have the time to listen to the whole album, you should. Although I don't like every song as much as I like others, you might.