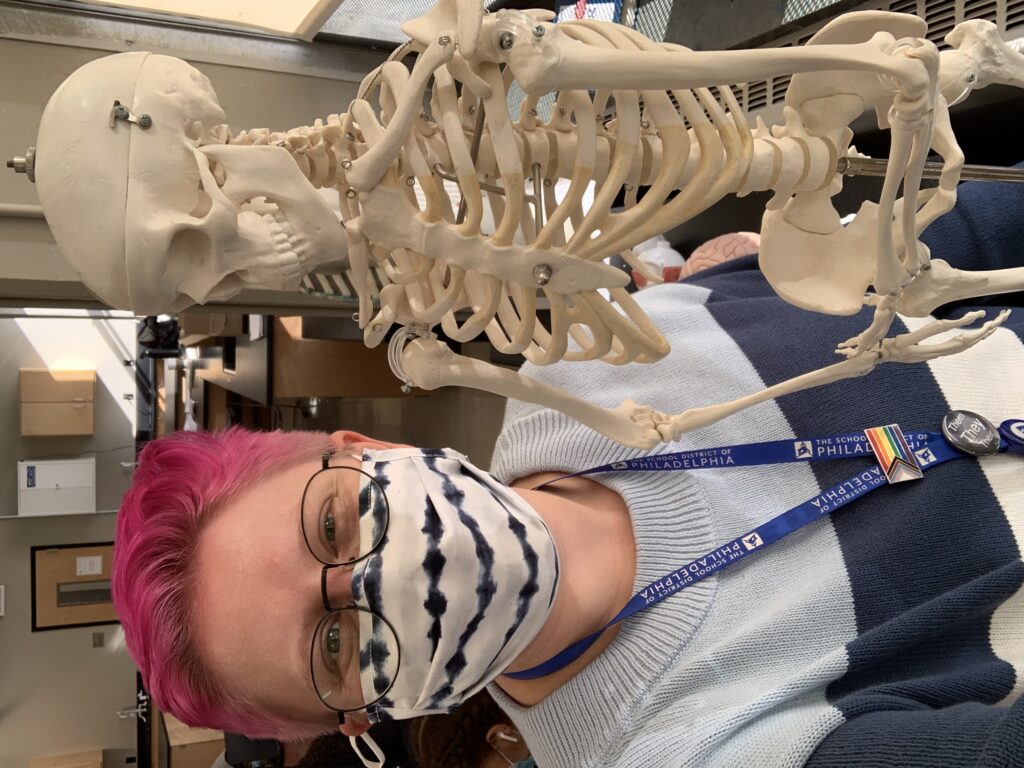 By Sophia Florence and Claire Powell
Annie Haftl,  who joined the SLA community for the school year and goes by Teacher Annie, is working as a student teacher for Mr. Henkel's science classes. Their presence brings engaging excitement and opportunities to the classroom for all students. Although they haven't been here long, they have already made a long lasting impression on the SLA community.

Early Experiences
Growing up in a town called Thorton, located in Delaware county, Annie knew from a young age what they loved.
"From the time I was very little, it became apparent to both me and my parents that I was interested in science in ways that other kids were not. I was really interested in collecting bugs."
Annie had journals filled with observations of the natural world around them, "Pretty early on I realized I was really interested in natural science."
In school, Annie was then exposed to an incredible science education through an organization called "Science Olympian." The club helps students They explained this club as a way for students to explore different science fields without the pressure of grades, and this is what led Annie into their exploration of different sciences.
College
They stayed in Delaware county until moving to Philadelphia to continue their college education at Drexel, where they started studying forensic science, earning their masters and bachelors degrees. Teacher Annie also focused on biochemistry and earth science, and was considering a future in research. However, their perspective changed
"I quickly realized that research and academia university structure in general is a much larger, more scary version of public schooling."
The isolation of the pandemic also forced Annie to rethink their career choices.
" I realized what I'm really passionate about is one, obviously science. And two, making sure that science is accessible to everyone."

The good and bad teachers Annie encountered in high school also influenced
"My very first chemistry class ever, the teacher basically told me I was an idiot." Annie wants to make sure students are not scared of science by discouraging educators.
"Making sure everybody knows that you don't have to be really smart or really good at anything to do well at science and it's really for everybody."

SLA
The SLA community has surprised Annie. Supplies are widely available at this school, which makes it much easier for classes to be hands-on and more creative. Progressive teaching styles also opened a whole new world of opportunities for students at SLA.

The resources and flexibility has resulted in a positive response from Teacher Annie's students. Senior Paula Vekker stated that, "I have really enjoyed teacher Annie's lessons, just the few days they've been here. The lesson plans are engaging to make me want to learn more and focus."

"Teacher Annie's classes are entertaining and optimistic," Senior Isabella Boix added. "It's refreshing to see a new teacher that can offer so much knowledge on the topic of science."

Annie has big ideas that they want to make a reality within the Philadelphia School District. Either this year or in the future, they want to establish a Science Olympiad so that more kids can have the opportunity to explore science outside of the classroom in an interactive and engaging way.