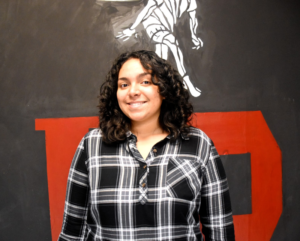 Maddi Etxebeste
Staff Writer
This year we have four new teachers at Science Leadership Academy, including Spanish teacher Joselyn Hernandez. She will teach Spanish 1 and 2, as well as some Rosetta Stone classes, in room 209.
With Puerto Rican origins, she grew up in a Latino neighborhood in North Philadelphia. She currently lives in Olney.
Previous Schools
She attended St. Hugh of Cluny, a Catholic School near Fairhill, in North Philadelphia, and then Bodine High School. Her experience at Bodine High School was very different from what she sees at SLA. For example, at Bodine she wore an obligatory uniform and the teaching method was much more traditional. There was one similarity, however: her Physical Education teacher at Bodine was Ms. Martin! (She taught at Bodine before coming to SLA eight years ago).
Before SLA, Ms. Hernandez taught at Philadelphia's Military High School which is much smaller that SLA, which she liked.
Getting Used to SLA
As her mentor, Spanish Teacher Melanie Manuel said that the transition has been manageable for Ms. Hernandez.  
"The most difficult thing for her has been to get used to SLA, not to teaching Spanish, because she had already done it before, but all the new teachers receive preparatory classes to get to know how SLA works."
Ms. Hernandez agreed. "The most confusing thing when I arrived was the teaching method, but I got integrated in the school more easily thanks to my new colleagues, who were welcoming and helpful, and made me feel in a comfortable work environment."
She likes SLA because she has the chance to experiment with something different than what she was used to. In addition, she likes her pupils; she describes them as hard-working and smart students. She wants, from the beginning, to create a strong relationship with them.
Teaching Methods
Her teaching methods vary, and include group tasks and collaboration between students. Her curriculum and Manuel's are the same, both because they teach the same subject and and because they both enjoy music and dance, which they use to supplement their lessons. "She especially likes singing!" said Ms. Manuel. Ms. Hernandez would like to open a sort of "singing club" and do things with students outside of the school if she had the opportunity.