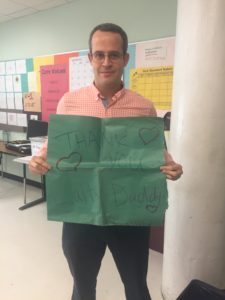 In most schools across Philadelphia calling a teacher by something other than their last name would get a student in trouble.  
This is yet another way that SLA is not a typical school. While the official policy is to call teachers by their last name, nicknames are often  accepted and encouraged.
"Depending on the level of consent with a nickname, they can be either a symbol of connection or endearment, or a cause for distance and resentment", said African American and World History Teacher, Daniel Symonds, also known as "Symmy or Sym Sym," who has been teaching at Science Leadership Academy for three years.
In a more traditional setting, a nickname can reflect respect not being delivered.
"I am hopeful that students take my work seriously, and that a nickname doesn't indicate my being any less of a teacher than those without nicknames." Symmy added.
But at SLA,nicknames usually consist of an inside joke or reference a story with that teacher.
For example, Math Teacher Brad Latimer, or "Latty Daddy," got his nickname from his first advisory, shortly before his first child, Zooey, was born.
"I nickname students, so it's only fair they return the favor" said English Teacher and Poetry Coach Matthew Kay, also known as Kizzy. which some student have called him in the past.
"We have a running joke with Mr Kay where he'll say something and I say K or MK or Matt Kay," said Sophomore Londyn Edwards. "I don't have a problem nicknames as long as it's mutual and  the teacher is cool with it, I think it shows the relationship with the teacher." she added.
"Teachers should definitely be appreciated , it depends on how you feel about them personally, but teachers should be appreciated in any regard because they sacrifice a lot." said Edwards
"(Sophomore) Caresten Moses has a nickname for Ms. Walker Roberts, she'll walk in the class and say 'hey mamas' and Ms Walker Roberts responds with 'hey honeys' I think that's the cutest thing ever, it's hilarious to me."
The general goal for teachers the goal is to make sure students understand class material not always connect. At SLA teachers hope to build community with students with the hope that a nickname does not let them stray away in class.
"Sometimes if it's a nickname between students it can be mean and can be making fun of the teachers" said Sophomore Taj Walter.. Several students agreed that such nicknames also exist at SLA, but declined to share what they were.
"Some teachers are dead set on having a strictly professional relationship especially at schools I've been to in the past, like Discovery Charter school," Edwards added.
"Teachers will get mad 'I'm a teacher you're a student, I'm an adult and you're a child, you're going to respect me as an adult', if you want to be a robot by all means…:"
"I give kids nicknames all the time, so I feel like it's just something that happens…and as long as the nicknames are appropriate and not hurtful, they can help build community" said science teacher, Tim Best, or "Mr Worst."
"Language is amazing and fun and meant to be played with," said Symmy.
"I am hopeful that students take my work seriously, and that a nickname doesn't indicate my being any less of a teacher." he added.