Aaron Watson-Sharer
The Philadelphia Phillies are pretty bad. The Phillies have just completed their worst season since 1969. Even worst, is that year the Mets went on to win the world series. They sit dead last in the standings in the Major Leagues and they soon will draft first in the 2016 MLB First Year Player Draft. The Phillies have had a very forgettable 2015, but the future remains bright with a great farm system.
As hitters, the Phillies are near the bottom in all batting categories. Ranking 24th in batting average at .249 is nothing but poor. Not to mention the .303 on base percentage, second to last in baseball. The Phillies also currently sit 27th in runs scored, just ahead of the White Sox, Braves and the Marlins, respectively. There is no hitting stat where the Phillies rank anywhere near the top in the league. The Phillies currently don't possess a feared hitter in their lineup but one can be found in the offseason.
The Phillies are amongst the bottom in pitching as well. The Phillies are doing so poorly on the mound that former Phillie Cole Hamels is still tied in wins. Of all eligible starting pitchers in Philadelphia, Aaron Harang somehow leads with a 4.86 ERA. On most clubs, that earned run average sends you to the minors. The Phillies through 152 games are 29th in earned run average. The Phillies only had 66 quality starts in 2015 In baseball, a quality start means they pitched six innings and only allowed up to three runs. The only team that is below them in most categories for pitching is the Rockies, who play in high altitude which leads to a great park for hitters. The Phillies could look this year to add to their rotation, or may put it on hold until they are able to contend, either way, something has got to be done.
So who should the Phillies sign next year?
They won't just go for the big name players. There are some who would never join us. David Price is an example. There are some veterans who are aging who want to contend. They may just sign veterans just to trade them to a top bidder. Next year we won't contend, so our options are very limited.
But here are a few players that would be worth it: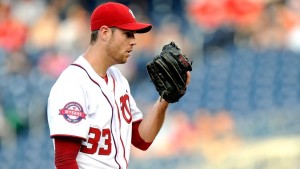 RHP Doug Fister:

It was expected that Doug Fister would have a great year. He has since been moved to the bullpen on a competitive Nationals' rotation. Doug Fister is going to be 32 on opening day and the Phillies have signed veterans like Fister on one year deals. Fister needs to prove that he can still be the quality starter he was in Detroit. Why not pitch for Philadelphia for a season?
RHP Alfredo Simon:

Alfredo Simon, 35, has had a tough year. Twenty nine starts with a 5.05 ERA. His WHIP has risen drastically this year to 1.439. Alfredo Simon can be a starter or a reliever, he has been a reliever in the past and excelled. Alfredo Simon spent three seasons in the National League with the Reds. He was an All Star in 2014 and was a great starter in the National League. He carried a 3.44 ERA and a 15-10 record. He could be a very good pitcher back in the National League and the Phillies use him to eat up innings.
RHP Ian Kennedy:

Ian is only 31 and has had a tough year, but with the Phillies, he could spend a year or two while we rebuild our rotation. Ian Kennedy carried a 4.28 ERA in 2015. Kennedy has plenty of potential and some believe he still could have a sub three ERA for any team. If the Phillies get something like that out of him, they could easily trade him in July and push the rebuild.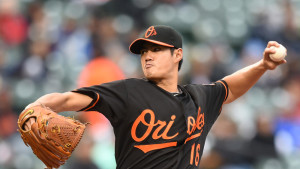 LHP Wei-Yin Chen:

I would love to see the Phillies pursue Chen heavily. He isn't the lackluster veteran like Aaron Harang. Chen has been a quality starter since he signed from Taiwan. This season, Chen has a 3.34 ERA in 2015. He has a quality strikeout rate above seven. He also walks very few batters, about 1.9 batters per nine innings. That's a great number. Wei-Yin Chen has the potential of a long term starter in Philadelphia and would perform at a very high level.
RHP Mike Leake:

Mike Leake is young and talented. That's all we need. He wouldn't be cheap to pry, could be about $15 million dollars a year. He has the number 2 or 3 starter potential and has proved that year on end. The Phillies young pitcher Aaron Nola was often compared to Mike Leake while at LSU. He and Nola also made their debut the year after they were drafted. Mike Leake is a winning pitcher, and the Phillies will start winning in a couple years and if we sign Leake he will be apart of that.
CF Dexter Fowler Jr.:

Dexter Fowler is a proven talent with superior glove work in centerfield. He has a .267 lifetime batting average and hits for contact and power. So far in 2015, he has 17 home runs. The Cubs will likely let him walk with all of their young and talented outfielders. Fowler is a power hitting center fielder who has great speed. That makes him a premier hitter in this league and would contribute in Philly.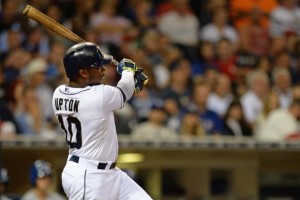 LF Justin Upton:

Justin Upton is a great fit in Philly. No way we don't pursue him for at least a five year deal. Upton doesn't always hit for average, he will never have that .300 average. Instead, Upton hits for power, 26 home runs, and consistency is in his name. His glove is

superior

, as you can see in this instance. Justin Upton is a top 50 player in baseball and would be in the heart of our lineup until he's 35.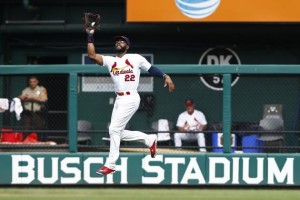 RF Jason Heyward:

Jason Heyward is an MLB superstar. Once heralded as the consensus top prospect in all of baseball, he's handling the hype well. He has only hit for 20 home runs in a season once, but that's ok because he hits for average. His batting average sits at .293, he has shown yet again he is a top outfielder in baseball. A near five-tool player, who hardly strikes out. He only has 90 strikeouts to date and every team would envy having to play him. Plus, he's 26 years old, a perfect age for the Phillies to build upon.
The Phillies last year reached a TV deal with Comcast and have all the money they need for the players they want. The Phillies have needs everywhere besides the few players who are playing their way into a long term starter; like Aaron Nola or Maikel Franco. This is the year to get a superstar free agent, because they will have adapted to the team by the time we contend. Andy Macphail, a baseball executive for the Phillies, has shown that he will make a bold move if the potential is great. Don't forget he traded Erik Bedard for five players, which included Chris Tillman and Adam Jones. There are eight can't miss free agents this year we should make a run for, we just have to put our faith in Macphail to pursue them.
The Phillies future is bright. One of the finest farm systems and with some young talent who will make the Phillies return to October. My personal predictions is that we pursue all of these guys but end up with Justin Upton and Alfredo Simon. Simon could help in 2016 while Upton would be at the heart of the lineup for at least six years. There are plenty of free agent options, but these are the best fits for the Phillies right now. We won't get the next ace this winter, but we'll find players who will contribute to the success of the Phillies.