By Jenn Wright
Staff Writer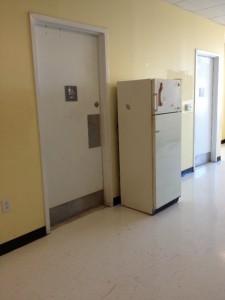 A mysterious refrigerator was found early this week in the men's bathroom on the fifth floor.
It has been confirmed that the refrigerator in question belongs to Spanish Teacher Mark Bey and Physical Education Teacher Pia Martin.
Unknown to Mr. Bey, the freezer door stood ajar  in his classroom over the summer, leading to a block of ice forming inside. With a floor drain in men's bathroom, the solution was to let the ice melt there.
The sudden appearance of a kitchen appliance in the bathroom drew a lot of attention from students.
Confusion met Senior Tucker Bartholomew Friday afternoon, "…I felt strange and thought I was in an episode of The Twilight Zone."
Reactions from students included mock elation from gentleman thinking they'd acquired a personal fridge to "Eh, it's SLA. Nothing out of the usual." as Senior Alex Johnson put it.
Other students were more surprised. "I don't think it's classy to have a fridge in the bathroom." said Junior Jamie Murphy.
Now that the refrigerator is done being defrosted, it has been moved into the hallway and awaits its return to Mr. Bey's classroom.
Contact Jenn Wright at jwright@scienceleadership.org
cover photo credit: Tucker Bartholomew