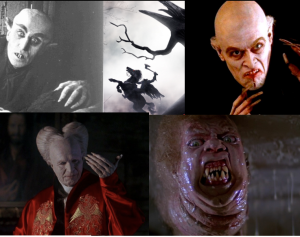 By Sean Morris
Staff Writer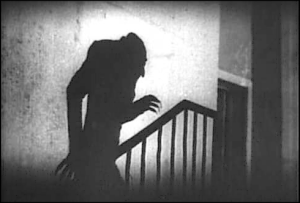 Nosferatu, 1929:
Currently we are living in an age where our pop culture vampires have less and less bite, often to trade for a sexual and/or identity factor. While that's not always a bad thing I personally like so see some of our undead with a little more… bite. (Yes it's cheesy I know, just go with it.) So let's go back to the original vampire on film who started it all- and no its not Bela Lugosi, but instead the incomparable Max Schreck in the 1929 classic Nosferatu. While far from terrifying by todays standards, the film holds up immeasurably to the test of time and is even one of my personal favorites. Without a doubt, a large part of the credit for the films success goes to Max Schreck, whose name literally means fright in German, terrified audiences so much at the time that they thought he might be an actual vampire. The make up on him is iconic to say the least and adds a genuine monster quality to the vampire that is often missed. While it has little difference to the original Dracula Story that has been told before, it's ultimately still unique and an enjoyable picture that deserves to live on in further generations.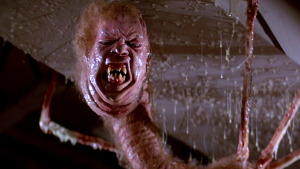 The Thing, 1982:
Deep in the Arctic, a lone group of Arctic researchers discover an alien that has the ability to replicate the form of any creature's personality, looks, and mannerisms, they don't know who to trust and the monster won't stop until they are all dead- terrifying right? This is the premise of the John Carpenter thriller "The Thing" starring Kurt Russell that, while not favorable when it was first released, has since become a cult classic and still has enough fighting effects and chilling atmosphere to send fear down an audience's spine.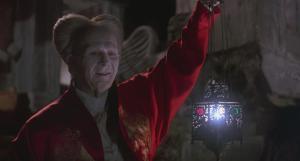 Bram Stoker's Dracula, 1992:
Directed by Francis Ford Coppola and starring Gary Oldman as the Infamous count, the film is a stunning visual treat, with costuming and makeup both earning well deserved Academy Awards for their efforts. It's as much an odd romantic movie as horror, and possibly overly sexual at times. Gary Oldman was enjoyable as the titular character, Anthony Hopkins was, if overly dramatic, interesting as the count's nemesis Professor Van Helsing, however if anyone brought a bad performance it was the ever- wooden Keanu Reeves who stunk of a horrible british accent. Watch it however for some wonderful visuals and costuming that really bring up the picture as a whole.
Sleepy Hollow, 1999:
The Tim Burton thriller might not be one of immense popularity or have an iconic status, however it remains one of my all time favorite Halloween movies. Ever of any time area. Why? I could go on about the cast's wonderful performances or the great casting in general, but ultimately it goes to the total atmosphere. Through the misty dead forests, to the carefully constructed village just for the movie, the pitch perfect costuming, and wonderful usages of color make a fun, scary and ultimately a perfect halloween movie.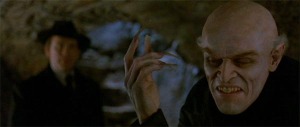 Shadow of the Vampire, 2000:
Released in 2000 Shadow of the Vampire tells a fictional story of the making of one the last centuries most influential horror films- Nosferatu. However, in a twist on the historical facts the film plays on the rumor that the film's lead actor, Max Schreck, was an actual vampire, by having him be an actual vampire in this story. Played masterfully by Willem Dafoe (who was nominated for best Supporting Actor at the Oscars for this role) he alone sell's this movie, but it still enjoys the talents of John Malkovich the wonderful merging of shots from the original film and this one and creates some wonderful atmosphere that really sells the whole picture.