Shaun White out of Slopestyle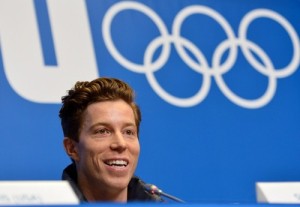 *Photo courtesy of CBS Sports
Apologies to all Shaun White fans, the career 17-time gold medalist will not be going for 2 more golds at this years winter Olympics in Sochi, Russia. White was expected to participate in both slopestyle and halfpipe at the Olympics, however due to a reported wrist injury, as well as questionable slopestyle conditions in Sochi, Shaun has decided to withdraw from slopestyle. Instead he will be focusing all of his time and energy on winning his 3rd consecutive Olympic gold medal in the halfpipe competition.
"After much deliberation with my team, I have made the decision to focus solely on trying to bring home the third straight gold medal in halfpipe for Team USA," he said in a statement released earlier today. "The difficult decision to forego slopestyle is not one I take lightly as I know how much effort everyone has put into holding the slopestyle event for the first time in Olympic history, a history I had planned on being a part of."
White also admitted that his wrist is OK, but he does not want to risk re-injuring it and losing out on his other Olympic goals.
"With the practice runs I have taken, even after course modifications and watching fellow athletes get hurt, the potential risk of injury is a bit too much for me to gamble my other Olympic goals on," he said.
With his best interest in mind, it would be selfish for us to want him to risk injury just to participate in slopestyle. Whether it's slopestyle or halfpipe, White will be at the Olympics attempting to make history again.
Larry Fitzgerald Restructures Contract with Cardinals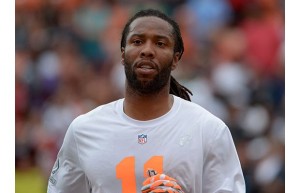 *Photo courtesy of USA TODAY Sports
In his 10 year career, Larry Fitzgerald has been amazing for the Arizona Cardinals. He's one of the few athletes who have spent their entire career with one team and was hoping to continue to do that with the upcoming 2014-15 NFL season. But after rumors of him being traded due to his immense $18 million salary cap for 2014, it didn't look too good for Fitzgerald and the Cardinals.
Luckily though, things have worked in Fitzgerald's favor, as he revealed on Twitter yesterday evening.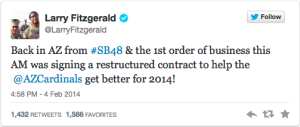 If the Cardinals planned on doing better than the playoffless season that they had this past year, they knew they would need a loyal, veteran and lucky for them they got to keep that with Fitzgerald.  Depending on the specific numbers and cap rules within the agreement, the Cardinals should be able to improve their team and increase their Championship hopes.
Windmill George
Paul George and the Indiana Pacers are cooking this season, with the best record in the NBA. George has not been simply leading the Pacers to the best record, but has been doing so in spectacular fashion. A lot of people have seen and heard about George's extreme 360 windmill dunk against the Clippers on January 18th, but George proved that he isn't done with the crazy dunks, with this dunk from last night's game with the Atlanta Hawks.

*Image created by Kenyatta Bundy from Pacers vs. Hawks Feb. 4, 2014 game footage
Just Nasty.
Writer's Note
I would, with great pleasure, like to introduce myself as the new official sports columnist for SLA media. With me you can expect blunt honesty, and a wide range of sports coverage, from the Olympics to the NFL to the NBA. No sports stone will be left unturned. Thank You.
By: Kenyatta Bundy Jr
SLA Media Sports Columnist