Taylor Green
Staff Writer
This year, SLA celebrated an expanded spirit week from December 11-15.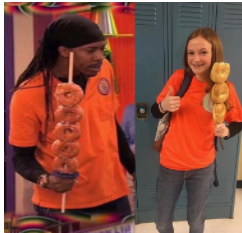 The week encourages students of all ages to dress up in unique outfits that correspond to the daily theme.
Over the course of the week, those who participated submitted a picture or video to the SLA Spirit Committee's Instagram page, @slaspirit. The page is run by senior Nadya Negron. Negron is in charge of Spirit Committee and implements the activities with help from her fellow Spirit Committee members.
In a new twist, students were encouraged to share their pictures or videos because the person whose entries were the most memorable throughout the week received a gift card.
"We decided to give out prizes this year because in SLA history not many students participate during spirit week," Negron said. "So we wanted to create an incentive that would make them want to participate."
On Monday, December 11th, the hallways of SLA were filled with outrageous memes such as Arthur, Salt Bae, mannequin heads, and other comedic trends that have made their mark on the internet over the years.
Although there were some duplicate memes, everyone who participated made the most of it. Those who were the same meme took pictures and videos together.
Teacher Tuesday featured students dressed like their favorite teachers. The student body's favorite teachers to dress as were English teacher Mr. Kay and Math Teacher Mr. Reddy, with multiple students dressing as each.
An example of a spot on Mr. Reddy impression was Junior Greg Tasik, who rocked his iconic basketball shorts and his plaid button-up. Students who dressed as Mr. Kay wore snapbacks and walked around with copies of the Odyssey.
Teachers were also encouraged to dress like their students. Physics teacher Mr. Enzweiler dressed as "a normal SLA student" and went with a classic hoodie and jeans look.
Twin Wednesday featured students dressing uncannily similar to each other. Many people picked out outfits with their friends that were exactly the same, or that just followed a similar color scheme.
Throwback Thursday was a play on the popular Instagram trend #throwbackthursday. Students dressed as if they were in the 80s, 90s, or 2000s.
Many people paid homage to the 90s grunge trend and wore their best flannels and baggy jeans. Those who were dressed as the 2000s wore Juicy Couture sweatsuits and carried novelty accessories like flip phones and small purses. Those who chose to represent the 80s wore denim vests and neon leggings. Some people even dressed as celebrities from these eras like Britney Spears and Michael Jackson.
For the last day of Spirit Week, the theme was "rep your set" Friday. Seniors had to dress as senior citizens, juniors were adults, sophomores were toddlers and freshmen had to dress as babies.
Many of the freshmen were dressed head to toe as babies sporting animal-themed onesies, bibs, and even pacifiers. Some of the seniors dyed their hair grey and wore nightgowns and slippers to have the appearance of old people. Juniors found it hard to dress as adults, so most of them wore cardigans and heels. A few of the sophomores wore bright colors and put pigtails in their hair to look like toddlers.
In contrast to previous years, the new themes this year allowed people to get creative and to just have more fun with it.
"I know for me personally, I liked the addition of meme Monday because it was something that a lot of people knew about and could laugh at," said Junior Lauren Nicolella.
Negron is pleased with how the week went and has more events in the works to invigorate the whole school.
"I plan on having at least 1-2 more spirit weeks just so our students can feel that SLA spirit. Also, expect a pep rally, of course, different holiday events, and hopefully an SLA party."
If you're interested in helping put these events in effect, Spirit Committee meets every Wednesday after school.