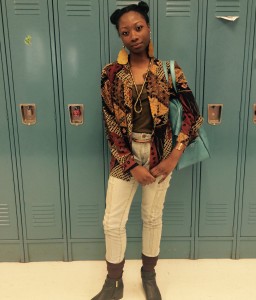 By Corinthia Bell Staff Writer
Where did you buy your clothes from?
I'll buy my clothes from practically anywhere, as long as it's in my budget. I get a lot of my vintage/retro clothes from thrift stores also. I love thrifting! I also get a lot of my clothes from H&M. This summer I went to London so I brought back a lot of clothes from there. London has really good taste in clothes.
What made you decide on them?
I like to wear things that i find different and unique, that I know not too many people are gonna wear, because I like to stand out. I don't necessarily have as specific style. I dress according on how I feel; if I'm feeling bad-ass for the day, I might throw on some black on with heavy eyeliner and look very grunge. Other days, I might feel very girly and throw on a cute dress and heels.
Who's your fave fashion designer/company?
I LOVE Marchesa! Their dresses are so pretty and detailed. I also like Givenchy, Jeremy Scott, Alexander Wang, Oscar de la Renta, Karl Lagerfeld, Alexander McQueen, Ralph Lauren, and Tom Ford. But as far as celebrities whose fashion I like: Kanye West, Kim Kardashian, Rihanna, Asap Rocky and Pharrell.
What's your particular taste in clothes?
I drift more towards 90's fashion and ethnic, urban clothing. I like colorful clothes and lots of prints.
"Fashion Fades only style remains the same". What does that mean to you?
To me, this quote means that fashion forever changes and there's always trends that come and go but you're always gonna have a style specific to you and only you.

~Jaiye Omowamide