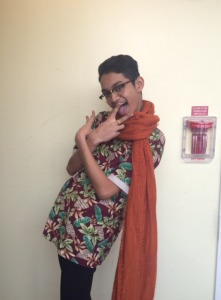 Corinthia Bell
Staff writer 
Where did you buy your clothes from?
I "buy" my clothes from my dad's closet and I mostly shop at thrift stores.
What made you decide on them?
Well usually, like during the school day i think about what i'm going to wear to school tomorrow and then i like think about one piece first and then like work around it. Like this shirt– i wanted to wear this shirt today and i was like "what will go with this shirt?" and then i just put this scarf on today.
Who's your fave fashion designer/company?
I have a lot. I don't like specific stores because this is thrifted like my shoes and stuff but my fave designer is Thierry Mugler like circa  1997. It's like the best thing ever. And Christian Dior like 2007.
What's your particular taste in clothes?
I don't think I have a particular taste. Sometimes i just like to be preppy and sometimes i like to dress casual. But i never, ever, wear sweatpants outside of my house. That is a no no. Or Flip Flops. Omigod, they should be like banned from the US. Like, no.
"Fashion Fades only style remains the same". What does that mean to you?
I don't think fashion actually fades, like how people used to dress like in the 1990s and its like coming back… it just like goes to the back of the burner or something and then makes another appearance, so i don't think it can fade.
~Enthony chhin