Avi Cantor
Staff Writer
"Wouldn't it be nice, when you first get your laptop as a freshman, that there is someone on the other end of an email saying, 'hey, I've been through everything that you've been through. I'll be here to answer all of your questions for four years.'"
– Larissa Pahomov
—
Since the first class graduated in 2010, the SLA  alumni community has been engaged in projects with the school, but never one that sought to bring together  the alumni and current students. That changed when, in the fall of 2016, English teacher and Alumni Coordinator Larissa Pahomov and Co-Principal Chris  Lehmann decided to finalize a project they'd been working on for years—a project where alumni would mentor incoming freshman.  
"Two years ago, Lehmann and I actually surveyed alums and asked who would be interested in participating and we had over 120 people sign up," Ms. Pahomov explained. And then we dropped the ball for a while," she laughed.
"But this fall, we decided that we had enough alums. There were only fewer than 1,000 alums and we would need 120 each year. So we decided to roll it out this year."
What's the history of mentoring? In the Hindu and Buddhist religions, there is something called the Guru-Shishya tradition. In it, the guru (teacher) builds a relationship with the Sisya (disciple or student) based on mutual respect, commitment, devotion and the obedience of the Sisya. The origin of mentoring is unclear, but the word itself comes from ancient Greece, referring to the character Mentor from Homer's The Odyssey. Odysseus left his son Telemachus in the care of his trusted friend, Mentor.
Dr. Susan Weinberger, a pioneer in the creation of school-based mentoring in the U.S. and an expert in the field says, "most people can recall at least one person who took the time to talk with them, guide them, give them good advice and become their number one advocate. Some young people find mentors on their own; others will never be able to do so unless we deliberately match them."
Weinberger believes that, "In order to be successful in life, we need to be surrounded by multiple mentors. So your grandmother, parent, coach, teacher and formal mentors all make for a successful person."
Weinberger is also a mentor herself. She was paired with her mentee Tasha when she was seven years old. They've maintained their relationship for twenty five years and talk on a daily basis. Weinberger's mentee,"had been identified as someone who could benefit greatly from the support of an adult in her life." There are a slew of different reasons why a youth may benefit from a mentor. Unfortunately, in Tasha's case, she lost both of her parents at an early age, was disengaged in school and she really needed "someone to pay attention to her in a non-judgmental way."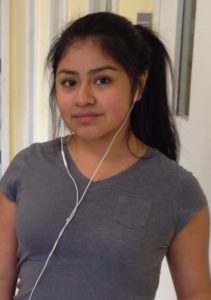 SLA freshman Cristina Valenzo appreciates that a mentor never judges you for who you are.
Valenzo is part of the first freshman class to experience this mentoring program. She explained that her relationship with her mentor was a vital part of her academic and social experience at SLA.
"With parents, siblings, and teachers, you can't tell them certain stuff and I feel like you can tell your mentor and they won't judge you for who you are," she explained.
Valenzo  feels like she can tell her mentor anything. She is confident that the advice that she receives from her mentor gives her strength to conquer the problem at hand because her mentor has been through the same things as her . But this mentoring program isn't just a one way exchange of helpful advice.
Mentoring is two directional. It is as beneficial to the mentor as to the mentee. Michael Dea is an alum of the class of 2012 who is participating in the mentoring program. He signed up for this program to give back to his community and to "offer guidance and advice to someone" based on their particular needs. Despite coming into the school excelling in the realm of test-taking, Michael blossomed in the project-based learning environment and learned how to apply what he was learning to real life, as opposed to taking tests to "climb higher in the academic rankings".
He was eager to have his mentee thrive at SLA just as he did. His goal as a mentor was "to foster a relationship that can be a resource" for his mentee. But this program has served a much bigger purpose for him. He was not the only one who used the experience as a resource.
"One of the things I have learned from my relationship with my mentee is that there are few formulas for building a connection between two people," Dea explained. "When we're young, we make friends and meet people easily, building relationships that vary in closeness."
"As we get older, we have a tendency to distrust others, even if it is a cashier in a supermarket or the postman. You might not want to befriend either of these people, but the relationship could be stronger because of the community you both likely share. I certainly don't have a bad relationship with my mentee, and I am thankful for that, but the initial moment when you meet a stranger brings to the fore how much you forget about building a relationship with someone from your younger days."
This program has the potential to be a defining feature of the Science Leadership Academy community. Dr. Weinberger praised the program saying "I would like to applaud [SLA] for deciding to establish an alumni/freshmen mentoring program. It can only benefit both at your school. I can assure you that freshmen will enjoy the friendship, guidance and advocacy and alumni will feel connected with the school from which they graduated, more engaged with SLA and improve their own morale and satisfaction."
Both Michael Dea and Cristina Valenzo rave about the program's success, and Mr. Lehmann and Ms. Pahomov plan to continue it for next year's freshmen.