Aaron Watson-Sharer
SLA Staff Wrtier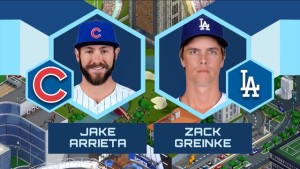 (Image provided by CBS Sports)
Baseball is a game where players are always recognized for their performances. There are countless awards. Gold gloves, silver sluggers and many more awards. One particular award is known as the Cy Young award, an award given to the best pitcher in their own league. The Cy young award debuted in 1956 and has remained one of the more exclusive and highly coveted awards since. In 2014, Corey Kluber was awarded the American League Cy Young award while Clayton Kershaw was awarded the National League Cy Young award. This year the National League has three major candidates, Jake Arrieta of the Cubs, and Zack Greinke of the Dodgers. This award could go either way and there should be a major stir after a winner has been chosen.
We all have an opinion on pitching and who has earned the rights to be the Cy Young award winner but we asked our own pitchers for their intriguing insight. We interviewed two of our own pitchers Juniors Benjamin Simon and Lukas Aznar and they told us a lot about their pitching.
Aznar does not love the award. "I feel like in the MLB they're like curse, because there's been a lot of Cy Young winners who don't repeat."
When it came to who should win, our very own SLA pitchers disagreed, where  Simon chose Jake Arrieta and Aznar chose Zack Greinke. "I would give it to Greinke because of his ERA."
A favorite is the Cubs Jake Arrieta. Arrieta has had perhaps the most dominant second half pitching in the history of baseball. Arrieta possessed 29 quality starts in 33 total starts. Only a few pitcher acclimate to that. Jake Arrieta pitched to the tune of a 1.77 ERA that lowered after each in every start during the second half of the season. Since the start of august Arrieta has a 0.41 ERA. That would be less than a run in two complete games. That also stands as an MLB record. His final 12 starts he only allowed 16 hard hit balls which would signify that the best players in the world could hardly hit his ball. Opposing batters had a single home run on him since august and he finished with a 22-6 record. The most wins in baseball.
The favorite for the Cy Young award is the Dodgers' Zack Greinke. Zack Greinke has reestablished himself as one of baseball's elite with a dominant 2015 campaign. In 2015 he had elite numbers; posting a 19-3 win loss record to the tune of a 1.66 earned run average (ERA). That is the best ERA since 1995 and one of the best in the modern era. He had 30 quality starts in 32 starts this season. He possesses 9.3 wins above replacement (WAR) which led all pitchers along with the best walks and hits per inning pitched rate (WHIP) in baseball at .844. Zack Greinke had a spectacular year worthy of being the Cy Young winner.
Most critiques recently have sided with Arrieta. Simon said "I gotta go with Jake Arrieta, he had a fantastic second half to the season and was unhittable." It will be very interesting to see who will use this award to take an even further step in 2016.
Most pitchers have strategies or unique behaviors prior to a start. At least here at SLA, that is the case. Two of our own say they have to approach a game differently than if they were on the field. Aznar approaches a game with peace and quiet. "I don't talk to anybody, listen to some music and get pumped up." "Silent and in my zone." Simon has a different method. "I like to get goofy before games, I get loose and try to stay locked in." To stay focused during a game Ben "Always tries to forget about the last play focuses on the next."
Simon said: " I like to relax myself, compose myself and take a deep breath for the next pitch." Aznar has a similar way of tackling the mound. "If you get into a bad swing of pitches it's important to reset yourself and keep your composure.
At SLA, pitchers like Benjamin and Lukas know that for the team, it's important to stay in the game no matter what's in the way.
Zack Greinke was made a top 10 pick in the 2002 MLB First Year Player Draft. Greinke has been on four clubs, beginning with the Royals. He requested a trade and Kansas City sent him to Milwaukee and received a king's ransom for him, including Lorenzo Cain and Alcides Escobar, two of the best players on perhaps baseball's best team. After a year in Wisconsin, Greinke was sent packing to the Angels and the catch of that trade was Jean Segura, an MLB All star. He didn't carry the success with the Angels he had with the Dodgers, with a very average year. He then had a money dispute in Anaheim and decided to sign with the Dodgers and hasn't looked back.
Jake Arrieta, unlike his counterpart has only been on two teams. The Baltimore Orioles and Chicago Cubs. Arrieta has had a tougher road to success, being a fifth round pick in 2007. He was going up and down between in the minors and majors in Baltimore, with a losing record and a 5.46 ERA. He had performances unworthy of remaining in the MLB. In 2013, he was sent to Chicago and was immediately places on the Iowa Cubs (AAA). Until mid-2014, he never really had a safe spot on a major league team. He dominated in 2014 and continued that in 2015.
Neither pitcher has had a career of dominance. Zack Greinke's lifetime ERA is more than double his ERA in his 2015 campaign. That is also the case for Jake Arrieta, he threw to a 1.77 ERA in 2015 and career ERA is 3.70. This year has been their defining moment in this league to the extent to where you can't be ignored.
In baseball, you never know what's possible. And for two pitchers who nearly walked out on the game due to lack of success at times have shown that they earned an award like the Cy Young through adversity. But only one many be the winner, who will it be? That is what we can't wait to find out.