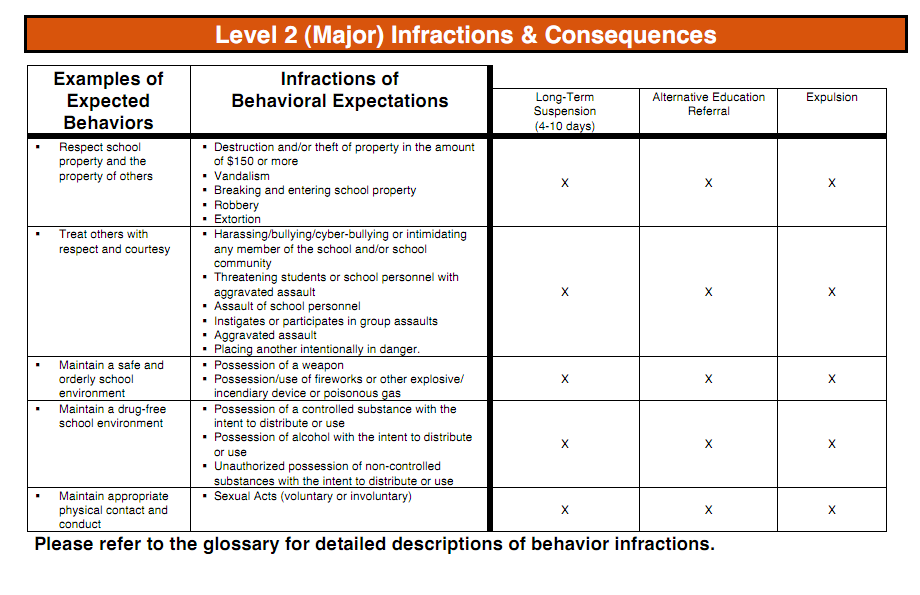 By Sam Lovett-Perkins
Staff Writer
At the beginning of each school year, students at SLA are given–and supposed to review–the Philadelphia School District's Code of Conduct packet (COC). This code explains the district's expectations for student behavior and consequences for when those expectations are not met.
The code is usually read an discussed in advisory. For English Teacher Alexa Dunn, this is a key part of students learning expectations about their behavior.
Zero tolerance items are most important because, "if kids violate them, SLA can not do much about what happens to you," Ms. Dunn explained. "So every year in advisory we talk about examples of what would be zero tolerance and what happens to you when and if you decide to violate that."
According to the code, student infractions are judged on a scale of severity and repetition of the offense. An example from the code of contact of a minor level once is a threat. This can result in short term suspension or an after school detention. An example of a higher offense, level 2 for example, could include the possession of a weapon or vandalism which can result in expulsion or a long term suspension of four to ten days.
These codes are placed to preserve the safety and security of a school environment. The COC also says what access students have such as "being treated fairly and honestly in the resolution of grievances and complaints."
Unfortunately, many students are unfamiliar with the code or the details of the consequences.
When asked to describe what the Philadelphia school code of conduct requires, Senior Emma Hersh responded, "That you have to be respectful and your not allowed to fight, to have respect for school property."
She thinks that students pay little attention to the code. "It's too boring to read, they give it to you every year but no one wants to read it. I think if [students] knew the expectations they'd be less likely to do bad things."
History teacher Diana Laufenberg described how does SLA tries to inform students about the code. "The three rules that we have are the manifestation of the Code of conduct the way we image behavior expectations of kids is to give them a broad expectations and use that to encourage a positive behavior."
She explained that the "rules" at SLA are meant to make the ideas of the code more direct to students. "Respect yourself, respect the community and respect that SLA is a place of learning; those are really the essence of the Code of Conduct but are worded in a more positive manner."
What the SLA guidelines don't do, however, is explain what the consequences are for certain actions. For smaller issues, SLA can manage punishment on their own. For major infractions, however, they are required to report to the School District and must follow all protocols for disciplinary action–suspensions, hearings, and expulsions included.
If students don't inform themselves about the harsh realities of school district discipline policy, it can give them a false sense of security about their wrongful actions.