Ella Donesky
Staff Writer
New York City is known for being a popular tourism city, with more than 54 million tourists visiting the city each year. Covering more than 450 square miles, New York is the 8th largest city in the world and a huge culture hub. NYC offers activities for everyone whether they're hipsters, athletes, families, activists, business people or students.
Over Spring Break, I took a train to New York City to visit my aunt, who lives in the Upper East Side of Manhattan.
From a young age, my family and I took frequent visits to NYC, so I've grown familiar with the city. I don't consider myself much of a tourist anymore. So this time, I decided to be a tourist by visiting some of the more popular locations in New York, and to also explore some of the lesser-known parts, because I had one of the best guides by my side, my aunt, a local herself.
If you're a high school student with a project on the Renaissance due the day you return from break, the first place you'll go is the Metropolitan Museum of Art, located on 82nd and 5th in the Upper East Side. Besides magnificent art, at any given time of the year, the Met has one of the most diverse clusters of tourists in the city, as far as I could tell.
By contrast, The Museum of Modern Art, or MoMA, located on 53rd Street, between 5th and 6th avenue in Midtown, offers a collection of art from the last two centuries and is currently showcasing an exhibit on Björk. The entire museum spans more than seven floors. I spent the morning on the sixth floor (which featured primarily art from the cubist art movement) and the fifth floor (featuring art from the last half of the 20th century). My personal favorites were Léger and Rousseau.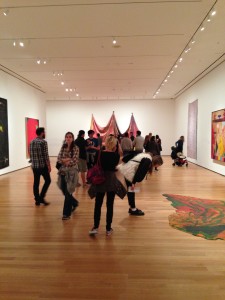 About an hour walk south from MoMA is the SoHo district, or South of Houston Street. The charming cobblestone neighborhood was once home to many famous artists, and now inhabited by high end shops, many of them from Europe and taking residence in the historic cast-iron buildings.
SoHo was one of the first neighborhoods I visited. As I wandered through the inner alleys and seemingly endless rows of boutiques, I noticed that the people there were far more trendy than those in the Upper East Side, often with what seemed to me like forced chic.
I stepped into a store just off the main street which was floor to ceiling white with maybe two clothing racks in the back, the clothes of which ranged from 1,000 to 10,000 dollars, though nothing appealed to me. The whole area was expensive. Even when I found something I wanted, the only thing I could afford while "shopping" in the area was a keychain from Kipling.
In addition to shops, there are plenty of restaurants, galleries and chair shops — which I only know because my aunt was in SoHo looking for a new desk chair.
Northwest of SoHo is the High Line (located in the West Village) a recent construction which turned an old, unused railway into a complete 1.45 mile long Park, stretching from Chelsea to the Meatpacking District. The project was funded by many artists and celebrities, among them Diane Von Furstenberg, who was essential in the fundraising for the project. Residents of Philadelphia may be interested to know that the High Line was designed by UPenn graduate and professor and head of the design studio Field Operations, James Corner.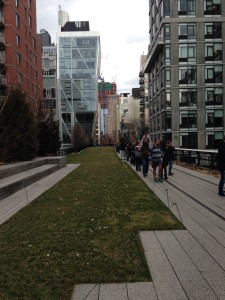 Though the park offers many places to sit, almost everyone on the High Line was on the move, except to stop and take pictures. Its prime location along the edge of the Hudson River, and overlooking the streets of New York provides an opportunity to tour the city from a different perspective than at street-level.
The vibe of the High Line is very much in sync with the "hipsterization" of many run-down neighborhoods, where warehouses have been turned into restaurants, garages into lofts, etc. If you look down at your feet, you may notice rusted, metal railway tracks mixed in with grass, brick and cement.
Along the High Line are many sculptures, a massive window overlooking the street below and a further down a towering hotel, which was recently involved in a scandal due to the exposure of open windows and frisky individuals.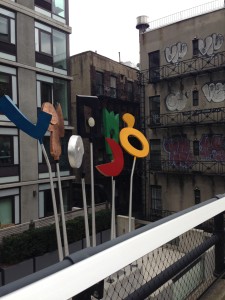 The Highline stops right in the heart of the meatpacking district, where as I stepped off the steps of the park I saw a scurrying gray-haired Matthew Broderick, bearing little resemblance to the Ferris Bueler of the 80s.
Further down from the Meatpacking district is Greenwich village, which many people mispronounce "Green-Witch." It was the setting of the popular TV show, Friends, as well as the location of NYU.
From the Village,, we walked through Hudson Square and Canal Street down to Tribeca. I just happened to stumble upon Taylor Swift's house, completely by accident. Surprisingly, I was one of only three girls loitering outside her home, which honestly made me feel like a bit of a weirdo. Unfortunately, she wasn't there to welcome us into her home, as I'd anticipated she would, but I took enough pictures…
By then, I had gotten very hungry so I stopped into the Big Gay Ice Cream Shop one of two locations, on 7th and Grove Street. I ordered a "Monday Sundae" which was a chocolate and vanilla twist ice cream, soft served in a waffle cone lined with nutella and and topped with dulce de leche, sea salt and whipped cream. It was very heavy (I couldn't finish it), but very, very good. The line was extremely long, but understandably so.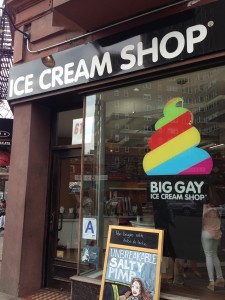 As the day came to a close, my aunt and I visited Battery Park (which had also underwent construction recently), where the Statue of Liberty could be seen from the small harbor.
We walked across another bridge to get to Wall Street, the last stop of the day. It was a specific request of mine, after having seen the Wall Street movie franchise as a child and deciding that I wanted to become a stockbroker.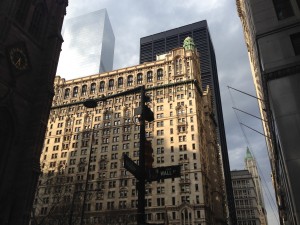 Now that you've been introduced to the hippest places in New York, you're probably wondering how in the heck you'll get from MoMA to Taylor Swift's house. The simple answer is, the subway. Though it may not be as glamorous as an cab or Uber, it gets you where you want to go, quickly and inexpensively. Of course, you'll encounter your average crazy person, but hey, that's New York!
Locations:
The Metropolitan Museum of Art: 1000 5th Avenue, New York, NY 10028
The Museum of Modern Art: 11 W 53rd Street, New York, NY 10019
SoHo: West Broadway to Crosby Street, Houston to Canal Streets, Manhattan, New York City
The High Line: Gansevoort Street to 34th Street, New York, NY 10011
The Meatpacking District: W 14th Street to Gansevoort Street and Hudson River East to Hudson Street, New York, NY
Greenwich Village: W 14th Street to Houston Street and Hudson River to Broadway, New York, NY
New York University: Greenwich Village
Taylor Swift's House: 155 Franklin Street, Tribeca, New York, NY
The Big Gay Ice Cream Shop: 61 Grove Street, New York, NY 10014
Battery Park: Southern Tip of New York, NY
Statue of Liberty: Liberty Island, New York, NY
Wall Street: Between Broadway and South Street, Lower Manhattan, Financial District, New York, NY