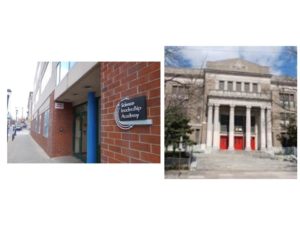 Deja Harrison
Staff Writer
Within the last year SLA Center City and SLA Beeber's sports team have split up to form their own individual school teams. Every sports team was supposed to do this but it seems as though the girls' sports teams have had some sort of exemption to this. Why is that? Is this fair to the boys' teams?
Junior Madison Harris, a member of the girls' basketball team, shared her thoughts on the manor. She believes it was Beeber's choice to start splitting up the teams and they are to blame for the separations. She also has her own thoughts about the girls' teams. 
"The girls teams are not big enough to split up as of right now," Harris said. "The girls' basketball team is very small for example. Once Beeber progresses in gaining players they will eventually split up."
Harris looks forward to the teams being separated because it "gives them their own identity."
Not everyone agrees with these thoughts though.
Arsenio Gomez, a senior on the boys' baseball team, expressed quite a bit of frustration when it came to the situation.
"It's stupid and unfair, especially for the baseball team. We shouldn't have been split up," he said. "We relied too much on the players who got taken out to be a good team and it's not right."
The baseball team was very good, according to Gomez, when it was combined with Beeber. He states that a lot of their star players came from there. The split caused them to go up in the baseball division which involves tougher competition. It will be hard for them to play at a competitive level with so many of their ¨heavy hitters¨ absent from the team.
"We are being held back," Gomez said of his newly changed team.
Matt Kay, the athletic director at SLA Center City, also shed some light into the situation.
"The choice to split the teams was made by both campuses," Kay revealed. According to Kay, the school's teams were only combined because of the lack of students at the Beeber campus. The teams were never supposed to be combined in the first place. The teams being combined causes confusion between campuses because the two schools are set to be rivals yet they play certain sports on the same team.
Kay, however, is thrilled about the separation. He even goes on to say that it's better this way because "kids get more of a chance to show out for their own school."
It's been almost 2 years since SLA CC and SLA Beeber teams decided to split. The growth in students at Beeber is increasing and soon enough all the sports teams will be separated. This doesn't mean that the success of the teams will leave with the Beeber students who were on it. Great players will continue to come to Center City with every new school year. There just may need to be more faith in the players.