Chhievling Seng
Staff Writer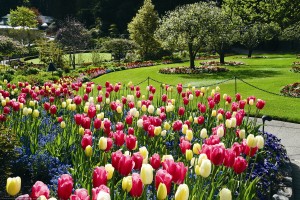 Spring is just right around the corner. For most people spring might be full of sunshine and pleasant weather, but for some, it might be an allergy nightmare. Whether you love or hate spring there many events coming up in this season.
Philadelphia Flower Show
The Flower Show is an annual event in Philadelphia, which dates back to 1829. Philadelphia Flower Show is the world's largest indoor flower show. More than 260,000 visit it annually. The money from the show goes to PHS and mainly the City Harvest Program, which provide over 1,200 families each week during it's season.
Saturday, February 28th, closes Sunday March 8th, Pennsylvania Convention Center at 12th & Arch Streets in Center City Philadelphia
Cherry Blossom Festival
This festival is celebrated in honor of Mayor Yukio Ozaki of Tokyo, gifting of 3,000 cherry trees in 1912 to the city of Washington. It is an annual celebration which is also a remembrance of close friendship between the United States and Japan. It started off as a small celebration, but now, it is one of the biggest celebrated spring event. Childrens in school reenact the initial planting and other related activities. This festival now is held for four weekends, welcoming people to enjoy the diverse programs and trees.
Friday, March 20th – Sunday, April 12th, Fairmount Park, Philadelphia
(National Cherry Blossom Festival is in Washington)
Night Market Old City
Do you enjoy food trucks? Then the Night Market is for you. It is popular street festival that is a seasonal celebration of music, food, and the community. Food trucks at the May event include over 80 of the best food truck and restaurants, and not to mention that there will also be live musics. It is a time for families in Philadelphia to spend time together roaming the streets that's filled with food places and activities.
May 15th, Old City, 3rd street between Market and Race Street, Arch Street between 2nd and 4th St.
Phillies Phestival
This is an annual event held in Philadelphia that raises money and awareness for ALS (Lou Gehrig's disease) research. ALS is a neuromuscular disorder. For about 30 years ALS Association Greater Philadelphia Chapter partners with Philadelphia Philles to raise awareness and money for ALS. At the Phillies Phestival, countless fans shows up at Citizens Bank Park.
Monday, June 1st
Spring is coming, so make sure you don't miss on out these fun activities! Springtime is FUN time here in Philadelphia.
Image Courtesy http://coronainsights.com/wp-content/uploads/2014/06/blooming-springtime.jpg