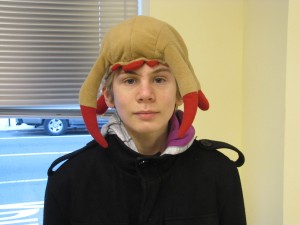 By Jesús Jimenez
Staff Writer
Who is Tobias Hahn?
Some might claim that they have not heard this name before, but rest assured, you've probably seen him. Toby, as he prefers to be called, is the freshman who wears a peculiar object on his head as a hat. And many students at SLA have yet to find out what it is–although they have their theories.
"I guess it's a deformed antenna to be wore as a hat, for some type of Halloween costume," said Sophomore Betty Louis.
Other people came up with answers such as a bug, monster, and headcrab.
A few students in fact, confirmed that what was on Toby's head was in fact a 'headcrab' originating from a video game series called Half-Life.
So, why does he wear it?
To Toby, the headcrab on his head is special to him. He has worn it everyday since the school year started, but never noticed anyone staring at it.
When asked what his peers think of his hat, Toby said "Some have poked fun at me, but most thought it was cool".
Toby also owns merchandise from different video games because they have had an impact on him. So whether he owns a shirt from Portal or a headcrab from Half-Life, Toby wears his items proudly for the soul reason that he enjoys those titles.
SLA can be a tough place to transition into, but speaking on behalf of himself and his headcrab, he stated "It's been pretty good. I find people here to be pretty nice."