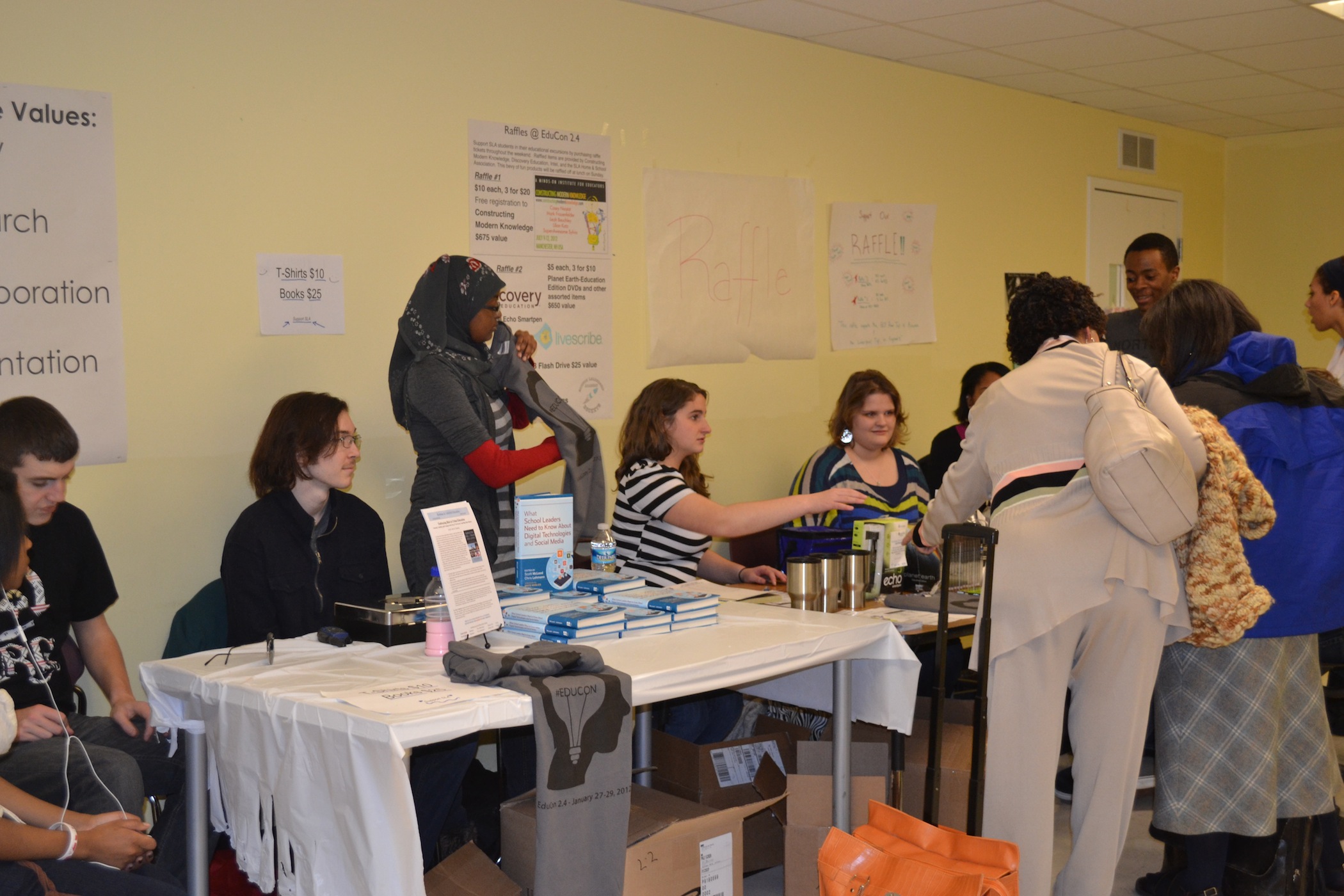 By Leah Kelly
Staff Writer
Coming to you live from Philadelphia PA, it's SLA's annual EduCon!
As a fundraiser for the school, EduCon makes keeping operating costs low a priority. What makes the conference possible is the initiative and elbow grease of the student volunteers.
The whole crew is managed by Student Co-Chairs Senior Ryan Harris and Junior Tsion Habtamu. Approximately 175 students are volunteering this year as part of a food crew, tour guide group, coat checker, cashier and much more.
Sophomore Nikki Adeli has a very important job this year at Educon–she is replacing Jeff Kessler as EduConcierge.
"As head concierge, I will be overseeing the EduCon Conference Services in addition to helping all guests at the event with whatever they may need," Adeli said. No word on whether the cart from last year will be make a return appearance.
Sophomore Dylan Long also has a job that is going to make guests satisfied with their time at EduCon 2.5.
"I am director of travel services," Dylan says. "Basically I have to tell people how to get around the city because people from all over the continent are coming and they have no idea how to get around. I have to know all the best restaurants to send them to with different budgets and the entire septa routes and schedule."
Other student positions include Coffee Czar Jenn Wright and many student "docents" who are personal hosts to VIPs who attend the conference. Docents are hand-picked because they have similar interests as the attendees.
Now in its sixth year, operations are running smoothly overall — although there's a few hiccups each time.
Two years ago, the student volunteers had to deal with a snowstorm which cancelled school–they showed anyway to have an "unschool" day with people who could make it.
That was also the year that SLA did coat check for the first time, and the system got messy.
"Everybody brought a peacoat," Senior Sam Lovett-Perkins said, who helped manage the room when he was a sophomore. "There was a pile of peacoats… everyone got their coat in the end, though."
This year, a challenge is getting the outlets to work. The third floor ballroom has intermittent electricity, which makes providing hot beverages difficult.
"EduCon attendees get really, really hyped up about their coffee," said Wright. "When the electricity is unreliable, that can make for a disastrous situation."
The conference is once again sold out, and SLA is expecting close to 600 attendees over the course of the weekend. As with all school events, the volunteers look forward to making this year's EduCon a success.