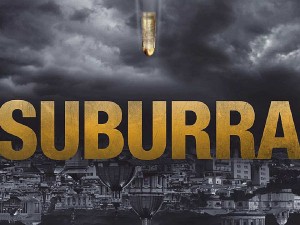 Sean Morris
Staff Writer
"The politics of House of Cards with the mob building of Boardwalk Empire" is the description by our own Mr. Herman that solidified my interest in the Italian film Suburra.
The film takes place in the city of Rome and its surrounding cities, and is about an interlocking tale of crime in which several mobsters want to turn the waterfront of Rome into the las vegas of Europe. However, peace does not last long after a favor from a corrupt politician goes awry.  Explaining too much more would spoil the film, but it is an interesting plot that manages to get you sucked into the web of intrigue.
Reviewing the film wouldn't be complete without mentioning the pitch- perfect cinematography and visuals. From the lighting, the very pink neon outside of one restaurant particularly strikes me, to the useage of rain and storms; which that combines with their impending theme of an apocalypse. In addition with their costuming and character designs- the film became a visual treat that, with an interesting plot make it very difficult to take your eyes off the screen, much less have a want to take them off. Theres one mustached character, Sebastiano,who has a nicely dapper sense of style, which this reviewer personally always appreciates, as well as the several handsome men in the film, and other characters like the criminal "Number 8" and his girlfriend, a Gypsy mobster and politician Filippo Malgradi all have interesting styles and tastes that reflect their character.
The actors all do a good job across the board, I might have liked to see a bit more power exerted from the well known and feared gangster known as "Samurai", but this is a small complaint.  I liked the soundtrack, which was mostly done with songs from the band m83, by itself although I question some of the placement within the movie. For some, it might be viewed as too "artsy," especially in combination with some of its more stylized cinematography. However, I didn't mind this and appreciated a different take on a crime story. Sometimes the stereotype holds that the more "gritty and edgy" crime dramas can wear on you down  or the more "artsy aesthetic" films can be boring- this film manages to be both gritty and artsy but with none of the curses that come with it.
The movie is currently streaming on Netflix in the United States,  and will be made into Netflix's first Italian language tv series. Whether the series will become a is meant to be a retelling, an entirely different set of characters, or a (most likely) continuation of the film's ending (which, from what is gathered is most likely) is not entirely clear, but either scenario leaves me interested in how it continue. And I can add on that it has the cinematography of "Drive" to it as well.
Overall, I would highly recommend this film to anyone who would be interested in this story. Since the story will continue, it  will be a fascinating world and pleasant viewing experience to return to.