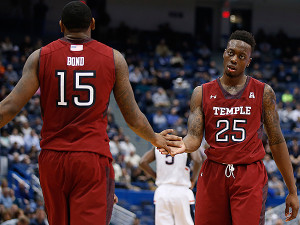 Benjamin Simon
Staff Writer
Two weeks ago, Temple sat impatiently waiting to hear their name called on Selection Sunday. Instead, they found themselves as a NIT (National Invitation Tournament) number 1 seed. They entered the tournament with a shaky and unconvincing win against the 8th seeded Bucknell, but bounced back with strong victories against George Washington and Louisiana Tech. Temple now is the NIT semifinals at the historic Madison Square Garden. They next play Miami (FL) and, if they win, will face the winner of Old Dominion and Stanford for the NIT championship. And quite frankly, I see Temple winning their 3rd NIT trophy this Thursday.
Why? Temple has played fantastic these last two games. They have competed with urgency and have shot the ball well throughout the NIT tournament. Against GW, they shot 50% from the field, significantly above their season average of 39%. Against LT, they shot 49%. If Temple keeps stroking the ball well, there is no way they will be defeated.
But they can even win without shooting well. Temple plays lockdown defense. They keep opponents to 61 points per game and play with heart. They bang on the boards (38 per game) and play smart on the offensive end (only 346 turnovers on the year, which is the 23rd lowest in the nation). On the other hand, the two most important reasons why I see Temple crowned the champion Thursday night are the abundance of scoring options they have and their deep lineup.
Opposite of years past, the Owls can rely on multiple people to step up and score when others cannot. Although only three players average in double figures, they have many guys who can get hot in stretches. Guard Josh Brown is the perfect example. Although Brown only averages 6 points per game, he has scored in double figures 9 times this year. He has put up 7 or more points in 15 of his outings. Brown scores in spurts, giving the team a safety net when other players are not hitting shots. You could also throw Clemson transfer Devin Coleman in the mix (a streaky and slick scorer) or even freshman Obi Enechionyia (an athletic big man who is multidimensional).
They also have 10 players who average 10 or more minutes a game this year. They have have 7 that average above 15. For instance, throughout much of the latter part of the season, sophomore forward Mark Williams has seen his minutes cut by the strong play of Daniel Dingle and Enechionyia. However, Williams has been brought in multiple times to fill minutes when players have been in foul trouble or have struggled. I feel quite confident in a team that has Williams, who has started many games for the Owls over the past two years, as their 10th man.
And Temple has first team all-AAC point guard, Will Cummings. The Florida native has been on fire throughout the NIT tournament averaging 22 points per game and shooting 54% from the field. Who's going to check him? Watch out Miami (FL), this team's ready to play.
Tuesday: Temple vs. Miami (FL), 7PM, ESPN, Madison Square Garden
Thursday: NIT Championship, 9PM, ESPN, Madison Square Garden
First picture courtesy of www.philly.com
Second picture courtesy of www.csnphilly.com