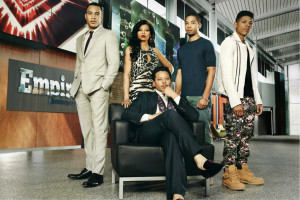 Sean Morris
Staff Writer
Whatever television show comes out this year will be unlikely to top 2015's early champion of the year- and for the past several years for that matter- Fox's hit Empire. Surpassing even the most generous expectations Empire did the impossible- added to its ratings for an entire season without ever dipping, only growing.
Empire's success cannot be underestimated and represents many changing ideals and important facts to consider moving forward:
It's primarily POC cast and a massive hit. While many shows have diverse casting, sometimes with its main character being a POC, its rare to see its entire main cast being composed of non white characters, and of those that do, it makes empire its most successful, showing strong strides in representation in television, which will likely play into fall's pilot season.
It DOMINATED social media platforms. Every evening at 8pm twitter and other platforms would be abuzz with fans talking about the show, making genuinely funny meme;s reactions all to show events seconds after it happened. While many television shows are getting into that format, Empire set the standard that maybe few, like a Shonda Rhimes show, could follow.
It's original music was actually enjoyable. In fact so popular that it was beating madonna's new album. Being a show set in the hip-hop world, strong music was a must have, and they certainly delivered.
It keep viewers at the edge of their seat so they couldn't miss an episode. With so many plot twists and events happening every second on screen, and with so many spoilers being twitted by fans, or people talking about it the next day , people just HAD to tune in and made them part of the excitement,
It had a cast of primarily new actors. Aside from academy award nominee Taraji p. henderson and terrence Howard most of the primary cast are new, previously unknown actors including Jussie Smollett, Yazz(who was actually born in philly) , Trai Byers and more- which allowed them to slip into their roles more easily (which I personally consider a general rule of thumb with newer actors) and allowed for new careers to blossom.
Again, Empire's success cannot be underestimated, its shown great strides and progression along with helpful cues into success that many shows will look toward and aspire for.
Some of those memes (with slight spoliers):