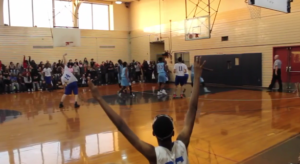 Avi Cantor
Staff Writer
In the final minutes of the 2016 SLA Beeber vs. SLA Center City, SLA Beeber came back to grab their first lead of the game. No big deal. But when point guard Myles Nicholson sunk two free throws in a row, he put one finger up to his lips. Shock went through the crowd at that point and everyone knew it was over. All of SLA Center City's momentum had been spent. SLA Beeber, in this David vs. Goliath game was well on their way to beating Goliath, even with minutes to spare in the fourth quarter. Finally, the game ended and Beeber students flooded the court and cheered. The Center City team and fans were stunned and disappointed.
But why was this game so astonishing? If SLA Center City had lost to another team, there wouldn't have been this sense of astonishment or shock. And why is it more important than just a basketball game between schools? First, let's look to the 2015-2016 season's game against Beeber.
Last year, SLA Center City won 59-53, thanks to a 29 point performance by guard Benjamin Simon and a 16 point performance by guard Lewis Ford. SLA Center City held 5 of Beeber's players to just 17 combined points. Beeber players Collin Shaw, Michael Vinson, Dashown McIntosh, Kevin Williams and Nick Anderson combined for 17 points, which was the same number of points as Shaelin Nixon-Mosee.
However, this year, even without Darvell Williams and Shaelin Nixon-Mosee, SLA Beeber managed to win 72-59. A big contributor to the outcome was Center City's team total of 30 fouls and 19 turnovers. Beeber, on the other hand, had just 9 turnovers.
Myles Nicholson led the way, scoring 37 points, which were not only the game high for either team, but was also more points than senior guards Adam Cavalier and Lewis Ford combined. On top of that, Nicholson scored 10 more points than SLA Center City's leading scorer on the year, Benjamin Simon, who had 27 points. But there's more to this game than a surprising point differential and Beeber's late comeback. As the newer SLA in Philadelphia, this game was a way for Beeber to prove themselves as a school.
SLA Center City student and basketball manager Becca Snyder argues that this game proves that Beeber isn't just an extension of SLA. "I think that [the game] helped them prove that they're not just an add on to SLA, which I feel like they're seen as in a lot of situations."
She went on to say,"I think we're pretty even. I think that they're seen as inferior but I don't think it's fair to look at them like that because we're two different schools that have two different vibes. I don't think one is less than the other…[Beeber] is just like any other school."
Senior guard Benjamin Simon made an argument that strengthened Becca Snyder's point. "I think that they deserve to be their own school," he said, "and they should be able to have their own teams. They should be able to have their own school spirit."
Beeber truly emerging as their own school is something that makes the Center City players optimistic. Both guard Benjamin Simon and center Hamidou Doumbia pointed out that this game has sparked a really great rivalry between basketball programs, bringing out the biggest crowd of the season for both this year's game and last year's game.
"I think it's fun," Doumbia explained. "I think that it's a way for everybody to get to know each other as schools and to see what we can do under the pressure of all our peers watching, along with the staff."
At this year's game, there was a heavy alumni presence, and even Principals Lehmann and Gerwer attended. Three eighth grade boys, who are all considering Science Leadership Academy for high school came to the game. One of the boys noted that  "the game was really fun to watch and it was really intense. It made me want to go the school even more, just to experience the rivalry."
The School District of Philadelphia may be in the midst of an emerging rivalry. This rivalry is not ordinary, however. There's no curse from a great player or a defining play that sets the teams against each other. This rivalry is fun, respectful, and builds camaraderie and a competitive spirit between schools. Even 21 days after the SLA Center City vs. SLA Beeber game, Benjamin Simon "stays motivated" by this loss and pushes for his team to win the division title. Last night against Bodine, Benjamin Simon and Lewis Ford combined for 47 points in their a 13 point win.
The Rockets play against Mariana Bracetti Academy Charter School on Thursday, January 11th.
Photo: Benjamin Simon/SLAMedia