William Derry
Staff Writer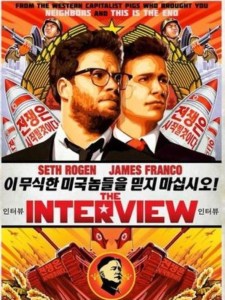 Image Courtesy of USAToday
In December, the Sony Pictures movie "The Interview" got a ton of news coverage about its release date — first it was on, and then it was off, and then it was back on.
I recently viewed the film and I must say that the buildup was very premature. Aside from the comedy of the movie being a bit provocative, it was your prototypical Seth Rogen and James Franco, type of movie. It's what we all have become accustomed to watching in theaters, if these two actors are the two leading roles in the flim.
"The Interview", where Rogen plays the role of Aaron Rapoport, the producer of "Skylark Tonight", a celebrity tabloid show. Franco, who plays the role of Dave Skylark, is the show's host.
Rapoport has been with "Skylark Tonight" for ten years but in his mind, he still has not produced a show that would put him among the best tv producers in the world. He tirelessly works, on achieving the opportunity of interviewing North Korean dictator Kim Jong-Un.
Ultimately, Rapoport achieves the feat but then the two are approached by CIA agents and asked to assassinate North Korea's Supreme leader, while on their trip to Pyongyang, North Korea.
The movie was very similar to other movies I've watched before that featured Rogen and Franco together. "Pineapple Express" and "This Is the End," which are two movies that Rogen and Franco have been casted in together, offer much of the same light-hearted gestures that were included in "The Interview".
I must say that the comedy in the movie was clever but at times the movie was too straight forward. For example, while CIA agents went through a prep session with Rapoport and Skylark at their offices, Rapoport mentioned to the agents that he wanted to be escorted back to the United States by a Navy Seal team after the mission was completed. Remarkably, that happened and the two were brought back onto US soil by a Navy Seal team.
I'm still uncertain if it was necessary for Sony to push back the release date of the movie. Yes, the movie was offensive enough to worry North Koreans but I'm not sure if that should have delayed the movie from entering theaters on time. The moment when Rapoport and Skylark kill Kim Jong-Un, was a bit overblown because the scene was shot in slow motion and Kim Jong-Un was killed by his own weapon. The movie seemed like any other movie and I didn't see a reason for the movie to be pushed back.