The Snow Bowl- Sports Talk with the Straight Shuter
Jesse Shuter
Staff Writer

Images Courtesy of ESPN
This past sunday, The Philadelphia Eagles took on the Detroit Lions in what turned out to be a blizzard. I was able to experience this game firsthand and I can tell you that it was both freezing and crazy exciting. This game provides a look into the future because the upcoming Super Bowl will be at Metlife Stadium in East Rutherford, New Jersey.
Metlife Stadium is home to the New York Jets and New York Giants along with many weather concerns. People looked at the Philadelphia game, which is now widely known as the snow bowl, as an indicator of what this year's Super Bowl could look like. The question is, is bad to severe weather truly a bad thing?
Many people are concerned about this possibility for many reasons. The first, is the players. Players hate playing in cold weather, it is uncomfortable and it is harder to play in. Also I believe that players will be disappointed to work so hard throughout the year to then be rewarded by having to play in horrible weather. The next thing people are concerned about is the affects the weather could have on the game, many players that are otherwise very skilled, may not be able to reach their full potential if affected by bad weather.
The last thing that could be affected by bad weather, is the revenue made through the Super Bowl. The National Football League (NFL), is afraid that people will not want to come to the Super Bowl if there is bad weather. As of right now, the projections are that the club boxes and suites along with the luxury boxes will completely sell out at higher prices than ever, meanwhile the regular outdoor seats would be very unpopular, and certain prices would likely need to drop.
The Take Away:
Speaking as someone that experienced the game firsthand, I can say that this was one of the most exciting games I have ever witnessed. Something important, may be even crucial, is that the defense was struggling which made it a high scoring game.
This league is a defense first league, each year the team that wins has a strong offense, but stronger defense. I'd like to see a change for once, the defense obviously has to be good to get the team to the Super Bowl, however it should be that for once a great offense can singlehandedly win the championship for their team.
By the Way:
In this segment, I throw in something else you might find interesting. After the game on sunday, a Detroit Lions fan was reportedly harassed and even assaulted on public transportation. Many people consider Philadelphia fans to be the most brutal of all the sports fans. As a Philadelphia fan myself, I can say that we are very passionate, and while we might be the most brutal, we are also the most dedicated. That being said, these actions are inexcusable and are giving us a bad reputation, you hear about things like this happening over the country, but never as often as in Philly.
In Houston starting quarterback Matt Schaub was struggling this year. He then got injured in a game, at home, in Houston. The home fans then proceeded to cheer at the fact that he was injured. It was absolutely appalling to begin with, and to add insult to injury he was a member of their team! So what is worse, this Houston incident or the Philly one? Which one makes you a worse group of fans?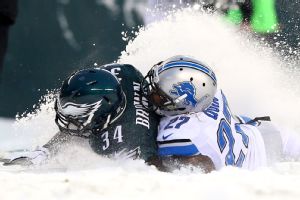 Shuter's Sleeper of the Week:
Desean Jackson (WR), Philadelphia Eagles
The Philadelphia Eagles are rolling and they certainly do not want to start to slow down this week. The Vikings have a terrible defense and Desean is due for a great game.