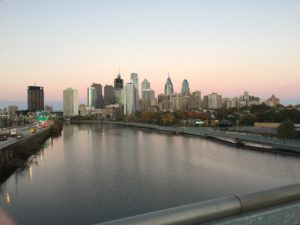 We all go our separate ways after graduation. Many kids will stay home in Philadelphia, But Some will not. When I was applying, I knew I wanted to go my own way, and that meant leaving the city. I was born in Philadelphia, raised right here in the public school system. I take so much pride in this. Now, I'm headed to New England to attend a private college. This will be a major change for me. I'm always going to love Philly, heck I could return one day. When I reflect on leaving this awesome city, there are a few things I'll miss greatly that's nearly exclusive to Philadelphia.
The first will be the alternative language used in Philadelphia. We've expanded the English language here. From water ice, drawlin' and outta pocket. These words are now a part of my everyday vocabulary.I dread the day next fall when I first walk on campus and nobody understands what I'm talking about when I use the word "jawn." That will be culture shock to me just as much as referring to toilet paper, shoes or another person as a "jawn" will be to them.
I'm also very upset I'll lose the convenience store dream that is Wawa. Unfortunately, to my knowledge Wawa is limited to the Philadelphia area, New Jersey and (oddly enough) sections of Florida. We also have papi stores, also known as Bodegas. These places are spectacular. I can buy four bags of chips for a dollar and a cheesesteak with fries and a drink for four dollars. In suburban Connecticut, there's no way you find a Wawa or a papi store. Where will I get my snacks?
Lastly, I'll greatly miss the most obscure and crazy fans in all of sports. I may be a Steelers fan, but I have had ample times to see the crazy in all Philly fans. I worked last fall at Lincoln Financial Field during the Eagles season. . I also have been to plenty of sporting events, College Gameday and the NFL Draft. The fans in this city live and die by these teams, and it shows. Philly sports fans never forget. I admire the passion they have even if it's explicit, rude and obnoxious. In fact, that's what I'll miss most about them.
Senior Benjamin Simon is another student who is moving away from home for college. He's going much further than us. Simon, the Georgia born student feels ready to leave home to go all the way to St. Louis. For Simon, leaving Philadelphia was always a part of his plan.
"I looked at schools outside of Philadelphia because if I had applied to more schools in Philadelphia I'd be likely to stay because that's where my comfort zone is." "I really want to push my comfort zone."
Many college students prefer to stay home for college. In fact, only about one fifth of graduates travel over 100 miles for college. A major reason people stay is because their hometown is all they know. Benjamin Simon had his concerns about a whole new place. "I'm going to miss knowing the city as well. What I like about Philly is I can navigate myself."
Simon will also miss many things that I will. "I will miss Wawa that's for sure." Surprisingly to me, the inconsistent weather of Philadelphia is something Simon will miss. "I'm going to miss our (Philadelphia) weather. We have a good mixture of weather here."
He also will miss the appeal and appeal of Philadelphia sports fans. Nobody is quite as passionate about their teams. St. Louis has its sports teams like the Cardinals and Blues. But they lost the Rams to Los Angeles a year ago, and the passion for sports there isn't as complete as Philadelphia's.
"I'm gonna miss the Philly sports fans because there isn't the kind of passion elsewhere especially after the Rams left." Simon said.
Isabel Medlock is another senior headed away for college. When she was going through the college process, she thought she had wanted to go far away for college. Which she slowly changed her mind on. As she now is going to Princeton University. "As I visited other colleges in other cities I guess I realized I like Philadelphia a lot."
As a resident of center city, Medlock won't miss much about Philadelphia except her proximity from everything she needs.
Overall, college is a brand new experience for everyone. If you go to school in Boston, Texas, New York City, Europe or even Philadelphia, it'll be a trying time for you to become who you can. For us, we are venturing out of the city we were raised in and that's both a blessing and a curse.