By Marina Stuart
Staff Writer
For the first time in three years, Science Leadership Academy entered the Penn Relays. The Boys 4×100 relay team had qualified for the race and were set to compete on April 27th. The team was comprised of Seniors Doug Wallace, Jason Davis, Tariq Smith, and Trevor Hinton. They were accompanied by Coach Brad Latimer, and the two other captains, Junior Matt Ferry and Senior Marina Stuart.
The last time SLA students ran in the Penn relays was 2009. At that race, SLA had teams competing in both the girls and boys 4×100 races.
Davis was part of the first 4×100 team that ran the first time SLA was at the Penn Relays. "Freshman year, I was a lot more unprepared," he said of that first experience. "Our relay team it wasn't a solid team, it changed every week, there was lack of coordination, a lack of practice, plus as a freshmen being thrown into that environment without being prepared, it sets you up to make mistakes."
"Being a senior and going to the Penn relays, it was a chance to redeem myself. We were prepared, my team with pretty proficient, I have a lot more confidence and there was more spirit within the team.  Plus when I was a freshman there was something about two or three track meet before and senior year I've ran a lot and I am used to the pressure, I was able to appreciate it a lot more." Said Davis.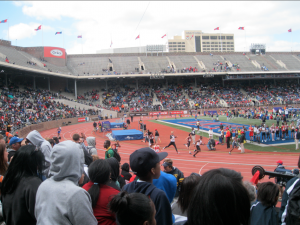 Hinton was not on the team freshmen year, but since is arrival on the team in 2010 he said "It had been my goal to get there and run, since sophomore year. It was an experience that not a lot people get to see and run in and I'm glad it came my senior year."
Wallace had never been to Franklin and didn't know how big a race the Penn Relays is. "I have never been to Franklin Field before, there were about 20 thousand people there, not many people can say they have run in front of thousands of people. I ran where Usain Bolt did, and it felt AWESOME."
This was also the first time Coach Latimer had attended the Penn Relays with a team. He said he had a great time and "I am extremely proud of our senior 4×1 team they showed exceptional poise and drive and skill in competing in the largest annual track and field meet in the world."
For all these runners this is their last year on the team. This event really tied together the season and "Solidified their brotherhood," According to Smith.
Smith has been a member of the SLA team since his freshman year, but had not run at the 4×100 previously. "Just knowing that you'll never have an experience like this ever again in your life." Said Smith, the final member of the team  "It made me realize that I had to live in the moment and have fun while I'm there."